At the end of last year, Kent bride Leah Jones married her partner Richard wearing her dream wedding dress. The dress not only symbolised the best day of her life but also achieving her greatest goal of losing over 6 stone. Leah found her gown at the infamous Confetti and Lace and will be appearing on hit TV show Say Yes to the Dress this summer, you'll be able to see her big day from start to finish. If you're slimming down for the gown and are in need of some inspiration, read Leah's story to find out how she did it, with lighterlife.
Here is how LighterLife helped Leah to lose weight for life
"Getting my weight under control has been a battle since I was a child, you name it I've tried it. As a Project Manager working in London, grabbing a shop-bought porridge and a calorie-laden sandwich was an all too familiar occurrence for me. Having to go to face-to-face meetings with customers and standing in front of people was a nightmare. I constantly felt like I was being judged for being overweight and never thought I was going to be taken seriously. What I needed was a diet plan that was convenient for my lifestyle and would show me how to keep the weight off.
Before I lost the weight, I found myself quite depressed with my weight playing a big part in my mood swings and resulting in my relationship suffering. I felt like people would look at my partner and think what is he doing with her which made me constantly feel like I wasn't good enough.
My weight would be the first and last thing I'd think about when getting in and out of bed. Even choosing clothes was a stressful and disheartening daily struggle and I'd often find myself running late for work due to not being able to find suitable clothing.
I came to the realisation that my unhealthy relationship with food was not only making me feel depressed but that it could eventually rub off on my 4-year-old son. We would spend a lot of our time together sat in front of the TV eating junk but I desperately wanted to be a good role model for him and to be able to run in the park, take him swimming and to be more active. This is when I made the call to join LighterLife Dartford in April 2016 to finally put a stop to my feelings of low self-esteem which were stopping me from fully appreciating my beautiful little family.
The LighterLife group support helped me unravel the reasons behind why I was reaching for food, whether it was when I was stressed or looking for a reward at the end of a tough week. I learned so much about myself. The Cognitive Behavioural Therapy techniques I've learned have been fundamental to my weight loss success, and I no longer feel like I did, constantly trying to diet which took so much of my head space up.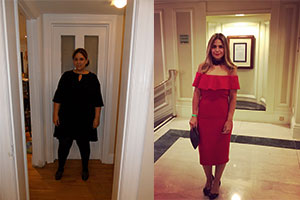 There have been so many benefits to losing weight, my state of mind for one as not only my body is lighter but my mind is too thanks to the LighterLife management groups. They've completely changed my behaviour around eating and introduced me to a way of maintaining weight so that it becomes a lifestyle change. I still enjoy my breakfasts and have the LighterLife porridge every morning and always keep a LighterLife bar in my bag so I always have a healthy option on hand whilst out and about with my family
I lost a stone a month on the LighterLife Total VLCD plan and reached my goal weight of 10st 2lb in December 2016 which has been completely life changing. This is the slimmest I have been in my life. As a family our days out no longer revolve around food, instead you'll find us at the local swimming pool. I'm getting married on the 21st December and can't wait to wear the dress of my dreams. I didn't lose weight for my wedding, I lost weight for life.
Going into the New Year now excites me and I'm planning to go back to stage and TV acting classes. I gave up when I was overweight as I didn't want to be stereotyped and cast as the typically 'bigger' role. I never thought I'd re-consider standing in front of the camera with everyone looking at me but LighterLife has helped me regain my confidence, so I can live my life to the fullest and return to my passion with the full support of my loving family."
For more information about LighterLife visit here.