Is your big day fast approaching but still want to shift a few pounds? Stuart Taylor, Founder of PerfecTone shares some last minute advice for blushing brides-to-be on how to get your wedding body.
It's the moment you've been dreaming of since you were a little girl. It's the day that you will remember forever. It's that once in a blue moon chance to bring all of your loved ones together at the same time, in one place. This is the day that you will stand opposite the love of your life and say the words 'I do'. On such a sentimental occasion, don't you deserve to look and feel the best you ever have?
Pristine locks – check. 
Perfectly contoured make up – check. 
"The dress" – check. 
"The wedding day body" – not 'quite so' check.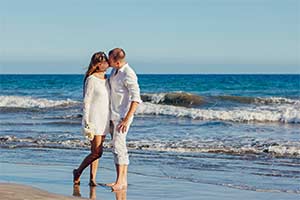 You deserve the dress to fit perfectly and comfortably. You deserve your cheekbones to glisten in the light. You deserve your flat stomach, toned arms, defined legs and every curve in your body to be the envy of every person in the room. 
You are already beautiful and you are already perfect.
But it's an age old reality that as soon as your man pops the question, the first thing to run through your head isn't the venue or the flowers or the colour scheme, it's a brief moment of panic when you put all that pressure on yourself to look and feel the most amazing you have ever felt. 
On this special day, you deserve to be confident and comfortable and the best way to do that is to prepare yourself in the best way possible to ensure that you are happy with the way you look and feel. It might seem like a long haul but in reality, a simple combination of fitness, food and fun is all you need to achieve your dream wedding day body. And it's never too late…
One of my favourite quotes is: "Be the change you want to see in the world and be the change you want to see in yourself. If you don't change the way you live your life, you will not see a change in the way you look. You are already perfect but why not be a healthier, happier you."
The countdown to the big day - how to get your wedding body
Sounds simple in principle but of course, as save the dates, flowers, cakes, entertainment, venue (and that's not the half of it!) start to take over, it can be easy to let the taking care of you side of things slide…
Forget fad diets – a last minute Atkins protein crash is not the answer – even with just a few months to go, it's still possible to achieve incredible results, the right way. 
It's amazing what you can achieve with just six weeks preparation but I would recommend (if time is on your side) to start a little earlier and give yourself 12 weeks. Two pounds of body fat a week can be lost with a structured plan; in 12 weeks, that's 24 pounds! In three months, you can achieve advanced muscle development and a combination of lower body fat and consistent muscle development means you can have a toned, defined look that you will love.
This is a once in a lifetime opportunity to look the best you ever have so embrace the natural motivation and inspiration this wonderful day have given you. In just 12 weeks, you can achieve: Perfect posture, Toned muscles, Reduced body fat, Radiant skin, and a Relaxed and happy mind.
A workout fit for a bride
Here is a sample day-by-day fitness, food and fun plan* for you to follow that will help guide you to achieving your dream body. The best part of all: they require no equipment so you can literally do them anywhere – even in the dressing room as you shop for bridesmaid dresses, if it comes to it! 
This 12 week wedding body plan will prepare your mind, body and soul for your big day. 
DAY ONE TO GET A WEDDING BODY: CONDITIONING CIRCUIT
• 16 exercises to be carried out in 4 blocks of 4.
• Each exercise should be 45 seconds in duration, allowing 15 seconds transition time between exercises.
• After 4 exercises, allow 60 seconds rest before starting the next block of 4.
• Complete as many repetitions as possible during the 45 seconds, whilst making sure your technique remains correct at all times. 
1. Marching on Spot, Skipping, Around the World Squats, Single Leg Touchdowns. REST. 
2. Burpee, Press Up, Lunge with Rotation, Plank with Reaches. REST.
3. Jumping Woodchops, Crucifix Crunch, Press up with Power Knees, 180 Squat Jumps. REST.
4. Spotting, Plank, Hoppers, Squat Jumps. REST. STRETCH
DAY TWO TO GET A WEDDING BODY: 8 MINUTE WORKOUT
• This workout you can squeeze into the busiest of days.
• 8 exercises – each one carried out for 60 seconds.
• No rest between exercises – run all 8 exercises straight after each other.
1. Skipping, Jumping Woodchops, Press Up, Face down Superman, 180 Squat Jumps, Side Lunge with Toe Touches, Plank into Press Up, Burpee. STRETCH. 
This workout will always appear in phase two. It's a short workout containing conditioning exercises formed in one quick HIIT workout. Phase 2 has limited carbohydrates to fuel you so this suits the short workout. The high protein content allows the body to build, repair and aid recovery as necessary. 
DAY THREE TO GET A WEDDING BODY: CARDIO WORKOUT
• This is dependent on skill level, deemed what you think is most appropriate. Time/distance should be adjusted based on your skill level. 
• The cardio workouts will progress and they will get harder as you get fitter.
• Complete one cardio activity from the choices below.
1. Run (2-10km), Swim (20-45 minutes), Cycle (5-15km), Gym session: X trainer, Treadmill walking uphill, Rowing Machine, Exercise bike (5-10 minutes, based on skill level)
DAY FOUR TO GET A WEDDING BODY: ABS CORE YOGA
• This circuit will target your abs and core through a combination of targeted conditioning pilates and yoga exercises.
• This is a low impact workout.
• 12 exercises to be carried out in 3 blocks of 4.
• Each should be 45 seconds in duration allowing 15 seconds transition time between exercises.
• After 4 exercises allow yourself 60 seconds rest before starting the next block of 4. 
1. Mountain Climbers, Plank with Reachers, 90 DegreeCrunches, Heels to Ceiling. REST. 
2. Plank, Bikram Sit Up, Sitting head to knee pose, Half Tortoise. REST.
3. Ultimate T Pose, Standing wide leg – head to knee, Body Ark, Advanced Spine Twist. REST. STRETCH.
Nuptial nutrition
Follow these simple dietary rules alongside your daily workouts and watch body fat disappear in front of your eyes.
Plan your meals. Shop well and make sure you have a full fridge.
Eat 3 meals a day and a healthy mid morning and mid afternoon snack. Try and eat within 30 minutes of waking up to fire up your metabolism.
Make sure your plate of food splits into 3 parts:
40% fresh protein (fish/chicken)
40% vegetables
20% starchy Carbohydrates (Rice/Potato/sweet potato)
Eat fresh real food and avoid processed food. Processed foods are often high in sugars, chemicals and salt.
Limit your:
Alcohol intake (One night a week only)
Caffeine intake (No more than two coffees per day)
Starchy Carbohydrates (Pasta, bread, potatoes/chips)
Sugary snacks (Sweets, desserts, jams and dried fruit) - Cut out completely.
Salty snacks (Crisps, salted or flavoured nuts) - Cut out completely.
Replace each of the above with a lesser of two evils:
Alcohol: replace with herbal Tea or water with fresh lemons/ lime
Caffeine: replace with herbal tea and water with fresh lemon/lime
Starchy Carbohydrates: replace with: sweet potato, butternut squash, cauliflower, other fresh vegetables
Sugary snacks: replace with fresh fruit
Salty snacks: replace with unflavoured nuts, carrots, protein.
Remember this is only for the 12 weeks and the sacrifice will be worth it when you are looking fabulous on your big day.
Stay positive and enjoy every moment of this journey. Imagine it, believe it and, most importantly, live it!
*Tutorial videos of all the exercises described above to get a wedding body can be found in the PerfecTone app, available to download here.