For the bride who favours classy over crass, and loves sharing their wedding journey on social media, The Hen Party Hamper from Team Hen contains everything you need to throw an unforgettable night, that'll leave you with stylish Instagram worthy hen party photos to remember.
The hamper contains enough for 5 guests including the Bride to Be, but can be made for up to 20 people.
From £45 for 5 people - £165 for 20 people.
Available to buy exclusively online at: www.teamhen.co.uk
Team Hen was established to offer Brides and their Squads modern hen party accessories, activities and ideas. Founder and creative director Danielle quickly realised the limited options for party accessories after organising her best friends Hen party; everything was garish, tacky and over the top. This inspired her to start Team Hen, a one stop destination where Brides-to-Be can throw a hen party that's as classy and stylish as they are.
Inside each instagram worthy hen party hamper
per hamper:
1 x Bride to Be Sash
1 x Photo Booth Prop Set
1 x Team Bride Banner
20 x Team Bride Napkin Set
10 x Team Bride Balloons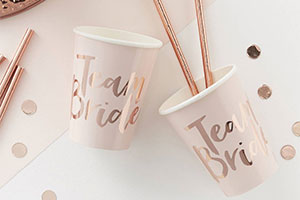 per person (5 minimum)
5 x Team Bride Gift Bags
5 x Team Bride Cups
5 x Team Bride Gold Tattoos
5 x Team Bride Crowns
5 x Team Bride Cups
5 x Bride Tribe Hair Ties
5 x Advice Card for the Bride to Be
5 x Hen Party Wish Bracelet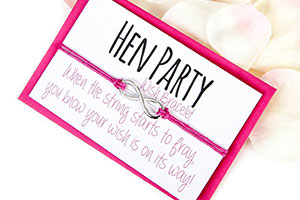 5 x Hen Party Nail File
5 x Hen Party Badge
5 x Paper Straws
Team Hen also have a range of engagement and wedding day gifts and accessories – for both brides and grooms - in addition to their hen party offering, all following the totally Instagrammable theme.
If it's hen party inspiration you're after, head to their website www.teamhen.co.uk where you can find a wealth of ideas on activities, trends, themes, games, food and drink and even hen party fashion.
You can even find and book hen party activities in the UK using their Directory Service, with categories such as Action Hen, Disco Hen, Foodie Hen and more.  
From the engagement to the wedding, Team Hen have you covered every step of the way, ensuring you have a fun – and chic – celebration that truly reflects who you are.