As we toasted in 2020 - we welcomed in a new exciting year, some of you may be newly engaged whilst others enter the year that you've been waiting for…the year you get married!
Whilst it's exciting looking forward to the wedding planning and organization that is in store, there's one part that is totally acceptable to hand over to your girl squad…. yes, you guessed it the hen party, so here are a few ideas to pass onto your bridesmaids our top 5 hen party ideas for 2020:
1.    Make it immersive
If you want your hen party do be a cut above the rest then we suggest picking an immersive experience for you and your girls and we guarantee you won't regret it! With so many immersive activities out there to choose from, you and your hens could find yourself excitingly transported back in time or playing a part in your favourite blockbuster movie.
Secret Cinema in London
You must've heard of the famed Secret Cinema! Here visitors have the chance to totally immerse themselves into the set of some of the World's best movies of all time. 
Held in a secret location in London, you don't find out its exact location until the day- you just turn up at the meeting place.  Prior to the date, you'll be notified what part you will be and what costume you should wear- a perfect way to spend your hen party in character at Kellerman's or at The Moulin Rouge! 
Alcotraz in Brighton
Spend your hen do serving time behind bars with this immersive fun prison cocktail experience.  Travel back in time to the US where you'll be handed your orange overalls and convicted to the Alcotraz Penitentiary Cell Block One Three. This movie and TV inspired activity will see you and your inmates taken into an exciting world of mischief as they are instructed by a notorious bootlegger from the inside to smuggle- in liquor to make delicious cocktails for you to drink.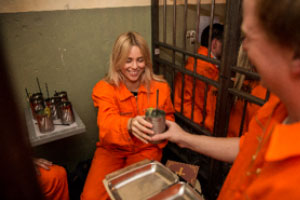 2.    Put the Zen in your hen do
Hen Do's don't have to be all about the partying and for 2020 there is emphasis on focussing on your wellbeing and feeling recharged for your big day is key.
Yoga at the Shard London
If you're a bit of a yogi and fancy doing something relaxing but epic for your hen do, Yogasphere hold yoga classes at The Shard in London.  Europe's highest yoga class at 1,016ft allows you to take in the amazing panoramic sights of London from Level 24 whilst enjoying a hen do with a difference.
Spa break
If a day or weekend of rejuvenation is what you are after, there's no better way to relax than with a spa break.  From country retreats to city spa's there are lots of different experiences to choose from, we suggest heading to Spabreaks.com to find your ideal hen getaway.
3.    Get cultured
Sophisticated hen dos are increasingly popular and getting together with your hens and learning a new skill or embracing a new culture is definitely on the rise. Why not choose a wine and cheese tour in Brighton or challenge yourself to create something delicious with a Bake with a Legend star in London both from Fizzbox.com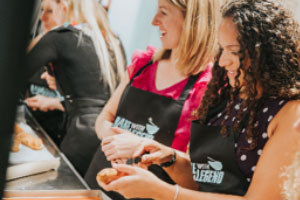 4.    Go bottomless
Everyone is going bottomless at the moment, not only can it be a fun filled way to spend an afternoon brunch but can work out to be cost effective too- especially with a large group like a hen do.  There is a huge variety of different styles of bottomless brunches to choose from with our favourites being the Hip Hop bottomless brunch in Brighton and pizza making with bottomless brunch (in selected Bella Italia's through Fizzbox)
5.    Add some adrenalin 
For those seeking a bit more adventure on their hen do, adrenalin fuelled activities are all the rage. A team based activity can provide a great way for your group to bond (and get some funny pics for Insta).  From the goofy energetic Bubble Mayhen (Zorb activity) to Velocity in Snowdonia- which isn't for the faint hearted but will guarantee a hen weekend that you'll never forget!