Mixing up some spirits is a great way to break the ice at your hen party, but you don't need to book a pro to help you. We have these delicious recipes from top mixologist and owner of the Grey Bear bar company Lloyd Brown and Baboo Gelato. Why not practice them with your maid of honour ready to show the rest of the party at your hen do?
Make your own hen party drinks with these 2 top recipes​
Bride's Bliss
An English version of a mojito, with the perfect marriage of strawberry and cucumber flavours…
1 In a tall glass, add one scoop of Baboo Strawberry gelato and a dash of freshly squeezed lime juice.
2 Layer on a small handful of borage leaves, along with 35ml Lyme Bay Winery Luggers Rum and a touch of sugar syrup.
3 Mix everything together then add another small scoop of strawberry gelato, before churning again until the glass is frosted.
4 Top with a dash of prosecco and garnish with borage flowers and cucumber spheres.
In the Pink
Romantic rose, gin and pistachio flavours combine in this grown up version of a coke float that's sure to get your hen party started…
1 In a tall glass add 50ml saffron infused Conker gin.
2 Add two drops of rose water.
3 Fill two-thirds of the way with bitter lemon.
4 Carefully add this to one scoop of Baboo Pistachio Gelato and stir.
5 Once settled, garnish with rose petals and serve.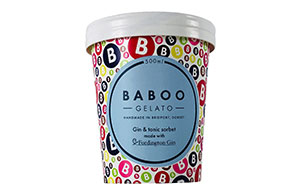 Want something more minimalist for your hen party? Why not try Baboo's new Gin & Tonic sorbet as a refreshing dessert to round off your group's meal? With subtle botanical flavours of juniper, star anise and lemon balm, it also works excellently as a palate cleanser between courses, perfect for a summer hen party.
Baboo supplies their Strawberry, Pistachio gelato, Gin & Tonic sorbet and other delicious flavours to restaurants in the South West, including the River Cottage Canteen, and a range of gelato and sorbet flavours are available in local farm shops, delis and at the Baboo kiosks in West Bay and Lyme Regis on a rotational basis. Visit the website www.baboogelato.com or follow @baboo_gelato on Instagram for more information. If you can't find a stockist near you, use another good quality gelato or ice cream flavour to match.