Brides at the ready! Forget Hen Parties, instead host a 'Duck Do' at Duck & Dry. Takeover one of our salons with your gal pals and create the ultimate, instagramable hen party.
Visit one of our prime locations and take advantage of our pretty and chic decor and leave with not only the most glamorous hairstyle but with ducking great memories too.
Check out our Chelsea and Oxford Street salons for dedicated group styling areas and crank up the volume at the Prosecco bar with your own personalised playlist hooked up to our sound system.
Low key or fancy, we can cater for all types of Hens Ducks. Have the freedom to decorate the space and bring all your party desires; butlers in the buff, cupcakes and games, we can work with you to create your dream party!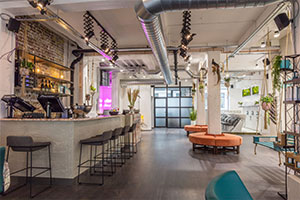 As the main event or as a pre-event beauty spot, Duck & Dry is the perfect destination to get your party started with over 16 blow dries and updos to choose from. Packages start at just £30 pp. Bring your closest friends and create an experience pre-wedding that you won't forget in a hurry. Yulia Rorstrom, Duck & Dry Founder has seen an increase in Duck Do bookings demonstrating the growing trend of the need for high-class events with a difference , she comments : "It can be quite difficult organising a hen party for a big group of ladies with different tastes. But whether you're planning a cosy 'Duck Do' or a wild one, who doesn't like to get glammed up with their girlfriends? Since Duck & Dry is all about great hair and a 'ducking' great time, it ticks all the hen party ingredients: pretty spots for pictures, prosecco, great music and blow dries, all in one destination".
How to book your instagramable hen party
Locations: CHELSEA – 335-337 King's Road SW3 5ES OXFORD CIRCUS – 28 Market Place W1W 8AW
PRIVATE HIRE Go all out with an exclusive hire of Duck & Dry with private stylists, any hair style of your choice from our look book, on demand play list and your own prosecco bar. We have 2 packages: *£50 per person which includes any blow dry / updo of your choice and exclusive use of the space. Any drinks are in addition (Prosecco Bottle £30 / Prosecco Glass £5) *£60 per person that includes your exclusive use of the space and any style of your choice whether it is a blow dry or an updo as well as half a bottle of Prosecco per person. Half a bottle of Prosecco is around 2/3 glasses depending on how large or small you like to pour! You are welcome to decorate the area if you wish and bring a cake / cupcakes/ balloons. There will be a member of staff to host your event and serve drinks and overall look after your guests in addition to the private stylists. For groups of 10 or more.
GROUP BOOKINGS
We would allocate separate times and split your party in groups for styling depending on our other bookings and the final number of your guests. But you can still all arrive at the same time! Our standard prices apply from £30 for express blow dry and with a wash blow dry £35 / updo £45. Salon would not be exclusively reserved for your party but there is a dedicated group styling table that you can reserve free of charge. And in all our locations there is a prosecco bar and plenty of seating areas where you can relax and enjoy drinks between the appointments. You can also order prosecco from the bar and other additional services such as NAILS from our in store partners can be arranged on request. We look forward to hearing back from you or if you have any additional questions or require more details, a member of our events team is happy to give you a call.
For more information you can visit their website here.