Your honeymoon will likely be one of the most incredible and memorable holidays of your life, so you're definitely going to want to make it count.
If you're reluctant to embark on a 'traditional' honeymoon and are looking for something a bit more alternative, here are five out of the box honeymoon ideas to consider.
USA Road Trip
A USA road trip is an iconic bucket list item for many people, but not many people would actually consider embarking on one for their honeymoon.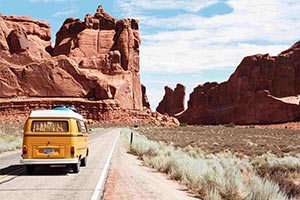 If you're able to take an extended period of time off work after your wedding for your honeymoon, why not plan a truly epic honeymoon road trip across America? This kind of honeymoon is perfect for those seeking a more spontaneous holiday where anything can happen.
Start on the East Coast and explore the likes of New York, North Carolina and Virginia and then make your way across the country all the way to Nevada and California. You can make the road trip as long or as short as you want (although the longer, the better as you'll be able to hit so many more spots and spend plenty of time exploring everything.)
South Island New Zealand
South Island New Zealand is often cited as one of the most idyllic, picturesque and incredibly beautiful places in the world.
Adventurous couples are sure to love South Island New Zealand as there's so much to see and explore.
See dolphins and whales on the North East Coast in Kaikoura, experience the Maori culture in Queenstown and cruise along the mightily impressive Milford Sound.
New Zealand is the perfect place to head to on honeymoon and while the North Island has plenty of amazing things to offer, the South Island is arguably more romantic and epic in terms of scenery, nature and incredible places to stay. 
Camino de Santiago 
For couples looking to spend quality time together while getting the chance to immerse themselves in nature, the Camino de Santiago is a great contender for an out of the box honeymoon.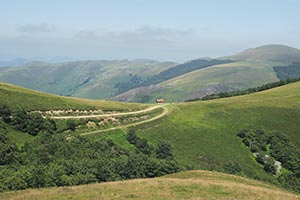 Hiking along this iconic pilgrimage route through Spain and Portugal allows you to experience so much of the great outdoors, work on your fitness and spend time together without being distracted by bustling cities or pushy tourist traps.
The Portuguese Camino is perfectly suited to newly wedded couples who are looking for something alternative that very few honeymooners have done before.
Carnival in Brazil
A honeymoon to the carnival in Brazil is the perfect option for thrill-seeking and fun-loving couples!
If your relationship is all about having fun, experiencing a different culture's traditions and being silly, then Brazil's carnival is the perfect place for you. It's also such a great way to mark the start of your long and happy married life together.
You'll get to interact with the locals, dance the night away and explore more of Brazil's epic offerings such as food, scenery, and nightlife. Dress up in carnival attire, go to different parties every night, and admire the over-the-top parades as they make their way through the brightly lit streets.
Interrailing around Europe
If you're looking to see as many places as possible during your honeymoon, then interrailing around Europe is sure to be well suited to you and your partner.
You'll be able to plan out an entirely unique route to suit you that can cover as many countries as possible. Bask in the romance of the Eiffel Tower in Paris, indulge in hearty cuisines of Belgium and Germany and see all the beautiful architecture in Budapest.
An interrailing trip around Europe is perfect for couples who want to see and experience as much culture as possible while embarking on an epic journey and a unique way to get around.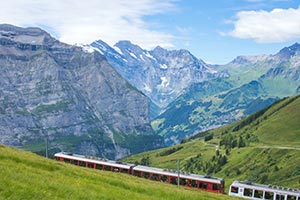 Europe is also home to some of the most beautiful castles, historic events, and delicious dishes in the world so you certainly won't be short of things to do.
Takeaway
You want to make sure your honeymoon is one of the most beautifully organised and enjoyable vacations of your life. It's important to choose a destination or idea that suits both you and your partner so that you can begin your marriage in perfect harmony.
If you want a honeymoon that will allow you to spend plenty of time outdoors and together, head to the Camino de Santiago in Spain and Portugal.
Alternatively, party the night away and immerse yourself in Brazilian culture during the carnival celebrations. For a honeymoon idea that allows you to travel for as long as possible, why not consider an epic American road trip or an interrail around Europe? You'll be able to see so many places, eat so much delicious food and spend time with your partner enjoying married life.
Rebecca is a translator by day, and a traveler mostly at night. She is an expert on living with jet lag – and packing in tiny suitcases. You can read more of her exploits at RoughDraft.
Event Date:
Wednesday, July 29, 2020 - 12:00