Weddings are an event filled with personal touches. Those personal touches are what make our wedding day so special. The more personal we can make our wedding the better. A wedding invitation is also full of personal touches. Whether it be the selection of who to invite or writing the invitation or even choosing the invitation itself, wedding invitations are full of personal touches that help to make our wedding so incredible. So why not add another personal touch to your wedding and make your own wedding invitations! WowVow are here to provide you with all the invitation making resources that you need to put another personal stamp on your wedding.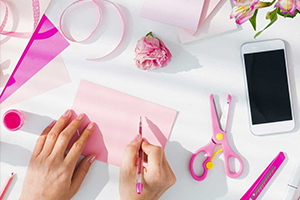 ​WowVow are the latest sister brand of The Handcrafted Card Company and specialise in all things wedding stationery. WowVow are a great destination for someone looking into a simple invitation making project but equally so for someone looking to roll their sleeves up and get really craftsy. With elegant embellishments, refined ribbons and exquisite enfolio, WowVow supply all the tools you need to add extra wow to your invitation making project.
Some readers may be thinking to themselves right now, "wow some of these pictures look incredible but there's just no way that someone with my artistic ability would be able to make anything like that". That's what sets WowVow apart from everyone else. They not only supply you with all your invitation making resources but they also consider themselves a resource. That's why on their website they also offer some amazing invitation making tutorials.
You might be someone who likes the idea of making your own wedding invitations but aren't quite sure what kind of design to go with or you might have a design idea in your head but you're not completely confident of every resource that you'd need in order to complete the project. WowVow's tutorials are not only listed in excellent detail but also provide you a handy shopping list of all the resources that you'd need to pick up in order to embark on your invitation making mission.
WowVow sell more than just wedding stationery. They also offer fabulous ranges of wedding decorations, wedding cards, wedding gifts and everything that you'd need for tables on the big day.
Sending out wedding invitations is a big part of everyone's wedding preparations. With the assistance of WowVow you can now put your own stamp on your invites by embarking on an invitation making project. WowVow aim to help you put your own personal touch on your wedding invitations with all the supplies you could possibly need along with some great tutorials for sources of inspiration and guidance.
For more wedding invitation information visit here.