Launched in January 2014 The Lovebus Wedding Company Ltd has gone from strength to strength winning Theo Paphitis' Small Business Sunday Award in August 2014 and have successfully reached the top 5 finalists in the transport section for the Great Northern Wedding Awards with winners to be announced in June 2015.
The Lovebus Wedding Company Ltd know that your Wedding Day is one of the most important days of your life, they pride themselves in pulling out all the stops to ensure your day is filled with the magic that your dreams are made of. The Lovebus Wedding Company Ltd is the choice for people who want a chauffeur service that's unusual, unique and exclusive.
They own four iconic bespoke VW campervans; two double sliding door Bay window campervans named Daisy and Dotty, a rarer sliding door split screen samba campervan named Delilah and a fourth being a hi-top split screen campervan converted into an ice-cream/candy van named Dolly's Delights.
All the vehicles have been fully restored by their sister company Spectrum Autospray Ltd and are regularly pampered with lots of tlc to ensure the vehicles are in immaculate condition but mindful not to upstage the bride!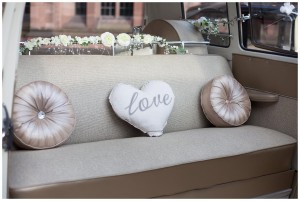 Bookings currently run into 2017 with enquiries and prices given as far ahead as October 2018!
Comments from clients :
 "Every bride has a budget and sometimes the budget wont stretch to your dream! That happened to me until I discovered The Love Bus Wedding Company. Tony & Linda are a fantastic couple who will make your dreams come true as they did for my husband's surprise for our wedding reception. I call them the dream makers as they certainly gave us an unforgettable experience on our special day. Professional, informative and helpful... with fantastic vintage vehicles. Thank you!"
"From start to finish the service was sublime, stunning quality, amazing company & a pleasure to have on board to do our wedding transport.  It simply couldn't of gone any better, what was promised was delivered, it was perfection. Thank you for adding value to our wedding."