If you're looking to book somewhere incredible for your minimoon, look no further.
Last minute rental provider, Snaptrip.com has a truly amazing venue, right here in the UK, so you won't even need to leave the country!
The fabulous Gosport Solent Fortress, originally built to protect Portsmouth harbour from a French invasion, could be a dream come true for a newly married couple.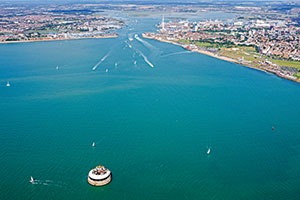 Built in the 1870s, the fortress which once hosted a 36 tonne canon has since been transformed into a swanky rental property and is only accessible via boat (or helicopter, if you're feeling really flash). Despite its renovation however, many of its original features have been maintained. The property still boasts exposed brick, valuated ceilings, original feature windows and gun emplacements, allowing guests to experience three floors of both history and pure indulgence.Offering nine bedrooms and eight bathrooms, each room offers total luxury and romance, with elaborate nautical décor and huge comfy beds.
Plus, with a hot tub, sauna, gym, library, games room, two rooftop decks, fire pit, reconstructed lighthouse, champagne bar and even a dedicated wine tasting room, this is the ultimate venue for an unforgettable mini-moon.
What's more, with the bustling nightlife of Portsmouth close by, offering tantalising restaurants and busy bars, newlyweds can enjoy best of both worlds during their first weekend away as a married couple.
Views of Portsmouth can easily be seen from both roof decks, or from your own private bedroom window. Early risers will be treated to stunning sun rises and glimpses of fishermen and yachts, all from the comfort of a luxury bed.
Multiple dining rooms and bars mean guests can choose whether they interact with others, or stay secluded and keep themselves to themselves.
Rooms start from £560 a night, each with a stunning sea view, eight of which have en-suite bathrooms situated in the middle deck.
How to book your minimoon? 
For the cheapest deal, last minute UK rental provider Snaptrip.com is the place to look as the company can guarantee the best price.
Click here to book