If you're looking to get fit whilst preparing for your wedding, and you also own a pup, then read the review below on the wonderful PitPat. 
I've been lucky enough to get my hands on a product that I never even knew existed until now. The Pitpat is a health monitor for your pup, which tracks how much exercise they're getting each day, giving owners and their dogs a chance to win prizes with the points they collect. It's a great way to make sure you and your dog are staying fit and healthy. If you're struggling to find that perfect thing to kick off your fitness routine in preparation for your wedding, then this is the perfect way to start it off.
I received my Pitpat in a handy box including a membership card, Eukanuba food sample, a keychain for a collar, some stickers, and the Pitpat itself. It felt really personal. It's always a surprise to get more in a gift than you expected! 
Being a fitness fanatic myself, I couldn't wait to take my dog out on a walk and see how many calories she would burn by walking for her maximum time. My dog is 9 years old, so the Pitpat collated all her breed details and information and decided on a target that she should be hitting every day. Set up was very simple. I downloaded the app to my phone, chose her weight, breed and age and Pitpat simply gave her a target to start hitting straight away. Her target is 35 minutes which is more than I expected, but since getting this information we have been exceeding this target every day.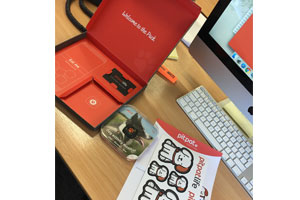 The Pitpat records when they are resting, playing, pottering, walking and running. It's been handy to see what she's getting up to whilst we're out of the house! There's a handy chart underneath the data on the main screen, which gives a basic overview of their most active times during the day. The most surprising element of all this, is that she's been doing a lot more exercise than I originally thought she did, and most of that included me getting out and walking too. All you need to do at times throughout the day or at the end of the day, is open the app and press the paw button on your Pitpat. It's super easy to use, and the fact that it's mostly controlled on your phone is very handy. 
If you feel like you need to get your fitness levels up or you're finding it hard to find time to hit the gym whilst juggling your wedding planning, then this is the perfect product to invest in. If you have a furry friend, get out on a walk and start to get fit ready for your big day!
Visit https://www.pitpat.com/ for more information on prices and memberships.
By Celia Dixon