Choosing the right wedding photographer is a tricky process. That's why we have spoken with Philip Bedford, a professional wedding photographer to get his advice on choosing the right wedding photographer for you wedding.
A jeweler once said to me that there are only two things that last after your wedding day. The first are the wedding rings and the second is the photography. Your wedding photographer will capture everything that you've planned so meticulously, capturing lasting memories of the day and they will remind you of those moments you shared with friends and family, even the things you might have missed as the day whizzed past. They will remind you of people that may have since passed away in 20 years, and, one day, you can show them to your new children or even grandchildren. The photography shouldn't be treated lightly and should be carefully considered as an integral part of your wedding.
Choosing the right wedding photographer …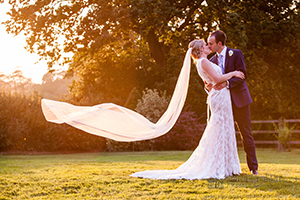 One of the best ways of finding any supplier is usually through friends and family. You may already be able to choose the right photographer from one you've seen at a friend's wedding if they did a good job! A lot of people use the internet or social media to find the right wedding photographer, or they might respond to an advert in a magazine. There are plenty of wedding photographers out there, but how do you know which one is right for you?
Check with your wedding reception venue to see if they can recommend anyone who has shot a wedding there before. It's not essential for a wedding photographer to have worked at your venue before to do a good job, but it can help. They'll be more familiar with where to get the best pictures, but this can be done by meeting them at the venue and discussing options with them. Also, try typing your venue into a search engine and look at the image results, which will usually yield lots of photographs that have been taken there before, this will give you some ideas for good pictures and the if you follow the image links, this will help you to choose the right wedding photographer.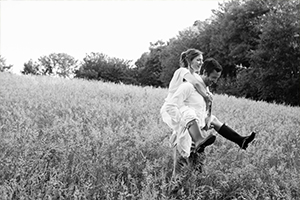 Every wedding photographer has his or her own style of photography, but there are a few main styles to look out for. A reportage style of photography, which is documentary in its approach and captures moments where people aren't necessarily looking at the camera is very popular. There is also the more traditional approach, where the wedding photographer will spend quite a while getting a few key shots absolutely perfect. This takes a lot longer to produce but tends to have a higher production value, sometimes using lots of lighting and posing the couple in just the right way. A lot of wedding photographers will deliver a mixture of both styles, shooting reportage pictures as well as more formal, staged photographs of the bride and groom
When choosing the right wedding photographer, you should have a good look at the photographer's portfolio to see if you like their work and ask them if you can view a recent wedding they've shot from start to finish. Also, look at the testimonials page of their website, or look for Facebook reviews to see what previous clients have said about them.
Wedding Photography Consultation
It's definitely recommended that you meet with your wedding photographer beforehand to discuss your requirements for the wedding. The photographer will also be able to show you some sample albums and a range of products and services they offer as part of their pricing structure. The meeting also gives you the opportunity to build a relationship with your wedding photographer, as you'll need to feel comfortable with them being around you on the day. You want someone who can make you feel relaxed and comfortable. Have a chat and get to know your photographer, ask questions about their pricing & portfolio but make sure you feel like they can make you smile and you're comfortable with them.
When choosing the right wedding photographer, it's good to let them know about any special requirements or unusual situations as well as find out about their terms and conditions, which should explain other questions like when will you see your pictures or will they require refreshments on the day and what they do if it's raining when they need to take photographs.
Wedding Photography Prices
Price will inevitably be part of your decision and in the UK, most wedding photographers will have prices start from at least £750 for them to photograph your whole day – from bridal preparations until the first dance. Most tend to be between £1000-£2000 for a full day's coverage and this will usually include an album of some kind, but some highly commended professionals may charge much more than this. Be aware of anyone who is charging a very low rate. They may be inexperienced, which is why they charge less, or they may deliver a much more basic service. Choose a wedding photographer that has a strong quality to their work and if you're unsure, or something doesn't look right – keep looking! You may not want to chance it with a wedding photographer who charges less than average on one of the most important day of your lives. Some people get a friend or relative with a camera do the photographs instead, but this can be risky, as you'll want someone who is up to the job and can be fully dedicated to the task.
Most wedding photographers either offer an hourly rate or a price option with a set number of hours (i.e. six, eight or ten hours of photography). It's important to have a couple of hours before the ceremony if you want photographs of you getting ready so consider whether you want coverage of the whole day, or just the ceremony and reception. Tell them your ceremony time and the time you're planning on having the first dance and they can usually provide you with a quote from there. Ask your wedding photographer what happens when their time is up and what their overtime rates are too.
When choosing the right wedding photographer, check if there are any extra charges, and if expenses and VAT are included in their rates. The majority of wedding photographers don't charge their clients for travel within their local area. They may charge for travel expenses for weddings that are further away and possibly for accommodation too. If you're getting married abroad you should expect to cover the photographer's flights, transfers and accommodation where necessary.
Some photographers offer an assistant or 'second shooter' that will cover the day as well. Having two photographers can be great and means you can get shots of the bride and the groom when they're both getting ready and get two angles of the ceremony. The assistant will be able to capture some more offbeat moments whilst the photographer is busy with the group photographs and portraits of the Bride and Groom. Of course, having an assistant is going to be more expensive, as the photographer will have to pay for them as well.
Perhaps hire your photographer for an engagement shoot (a pre-wedding photo shoot) to help you get used to being photographed and to get some extra, informal photos of just the two of you before the wedding.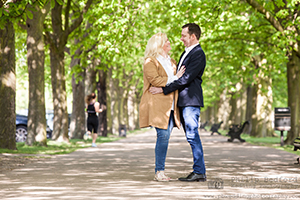 Wedding Photography Printing & Presentation
Ask your wedding photographer about how they'll present the photographs to you and how many photographs there will be. Talk to different wedding photographers about their final products and what they'll do in post-production (Photoshop). Some wedding photographers may deliver about 100 images, others can deliver 1000 or more! The editing process after the wedding will be the key to making every photo looking fantastic, tweaking the colours and contrast, cropping images for optimal composition, converting some photographs to black and white and reordering the images to best tell the story of your wedding. Some wedding photographers also outsource their editing third parties, so it's worth finding out how this process works.
You should also ask about copyright and whether you can print the photos yourselves or if you can copy them to send friends and family. The wedding photographer is the copyright owner and the client are usually given a license for the photographs or told a simple list of dos and don'ts. Some photographers are very protective of their copyright, so it's worth finding out exactly what you can and can't do with the pictures.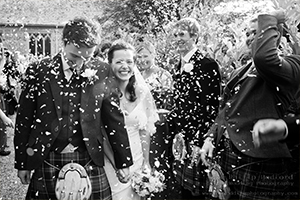 What if things go wrong?
It's crucial when choosing the right wedding photographer that you know what happens if the photographer is unable to attend for some reason? What happens if their equipment breaks? A professional should always have a spare camera with them, just in case. Most wedding photographers have public liability, professional indemnity insurance and have their equipment insured too. Ask if they have a contingency plan if they're not able to attend the wedding, such as hiring a replacement photographer instead.
A contractual agreement should be used, which helps protect you as a customer and the wedding photographer as a business professional. It should outline things like what would happen if there was a cancellation by either party and what due process would be. It's not the most fun bit about getting married, but it's essential to know where you stand in agreements with your suppliers and it is good to have things in writing.
Finding the best wedding photographer
Choosing the right wedding photographer should be a fun and exciting process. Enjoy looking through a range of fantastic photographs, get a feel for different pricing scales based on your wedding budget and call or meet your wedding photographer to discuss your needs. Wedding photographers really enjoy what they do so when you've found the right wedding photographer, it should be really easy to see why!
For more information on Philip Bedford and his photography visit his website here.