We are all more aware of being ethical in our day to day lives but you can also have an ethical wedding. There are venues and catering companies offering ethical values but there are other ways of reducing the footprint of your special day and it's all about looking to see what you already have to reduce waste.
For instance, one way of making sure your dress is ethical is by asking your family what they have that could possibly be re-used or upcycled. Your Mum might still have her dress or veil which although might not be your style can be cut up and completely restyled by the right designer.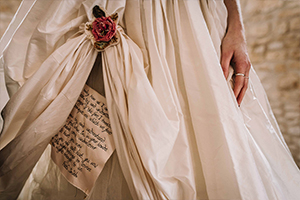 "Atelier 19" in Cheltenham specialises in this. It is the atelier of award winning designer Jan Knibbs who specialises in couture embroidery and often incorporates her signature style of embroidery with vintage finds for her label "something old…something new" making her pieces not only ethical but very unique and personal. Also, with Jan's embroidery skills you can have couture detailing at a fraction of the cost of a couture dress from a well known designer.
You can reduce your footprint of your special day and have an ethical wedding
She often works with milliner Gemma Sangwine who also uses vintage pieces, especially costume jewellery and feathers which she reworks into incredible tiaras and headdresses, making them the perfect accessory for Jan's dresses.
Jan also makes embroidered hairpieces, sashes and even customised embroidered shoes to make sure your whole wedding outfit co-ordinates from head to toe often incorporating found items making them also ethical.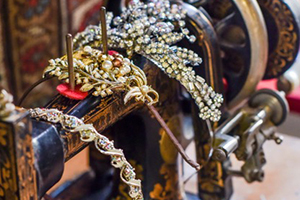 One excellent example of this was in fact for her own son's wedding for which she not only made the brides hairpiece from her own mothers veil (which the bride found in their "dressing up box!) but also a sash, hair ornament and neckpiece for each bridesmaid as well as her own hairpiece which she and Gemma worked on together.
The bride herself made over 300 paper flowers for her own wedding and has now set up a business making paper flowers for other people's weddings so this is also a great option if you hate waste.
By working with a local designer rather than buying a dress that was made miles away also means that you're making a more ethical decision as well as supporting a small local business. This means that your wedding dress will be not only ethical but also very beautiful, unique and personal to you and an heirloom for the future.
To find some great products for an ethical wedding visit one of the websites below