Like most, we woke up on the 27th of November to the news that Prince Harry will marry his girlfriend and Suits actress Meghan Markle. The couple have been dating for a year and a half and will tie the knot at Windsor Castle sometime next year. While many people's first thought was wondering if we get a bank holiday and day off work to 'celebrate', The Stag Company decided to get in quick and throw in their hat to host Harry's stag night. The Prince is renowned for his party antics and unsurprisingly the thought of a stag night for such a man has excited many. The Stag Company's iteration is a weekend in both London and Prague with activities that are all related to the prince and royalty.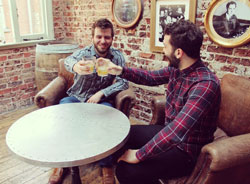 On top of all this they are offering the stag weekend for free, should the prince take them up on the offer. Not that he needs any help with paying!
The royal prince will start his adventure with the sport he loves, rugby. A chance to join a quick training session and game with some of England's biggest former stars. Harry will then enjoy a low-key gentleman's afternoon tea with a fancy dress element. After all, we know how much he enjoys fancy dress.
The prince will then be jetting off to Prague, which is a home away from home for UK stag parties. A fake arrest by actors will have him worried about newspaper headlines. The fake police will make him believe they are taking him to a police station, but he will go to the obligatory strip club instead.
In honour of his military service The Stag Company will then give Harry the chance to fly a fighter jet. This is followed by a photo opportunity, when he takes on a dog chase, but instead of an Alsatian it will be Corgi's.
A stag weekend would not be complete without a night out and Prague is one of the best places in the world for a bar crawl. The royals won't want him to go to Las Vegas again, so this could be a happy medium for them.
After all this he will no doubt have to explain himself to the Queen, but one thing we can be sure of is that the Prince will have one amazing stag weekend and a fitting end to single life. We all know Harry loves a good ol' party so whether he goes for this or not, I am sure this is not the last we have heard about his stag weekend.
Congratulations Harry and Meghan!