You are about to commit yourself to a person who is beautiful inside and out, which is exactly how we feel about creating the engagement ring that is to adorn his or her finger, says jewellery designer Arabel Lebrusan of Lebrusan Studio.…
When you can choose from 100% recycled metal, fairtrade gold, fairmined ecological gold and responsibly sourced diamonds, there really is no excuse not to! You can be assured that your engagement ring will be a uniquely personal piece to be proud of for years to come.
Like you, I believe that we can use the beautiful materials that come from the earth, without harming our blue planet. I believe that by asking questions, simplifying supply chains and sharing knowledge, we can achieve this. I am committed to sustainability and traceability of the materials that we use in our jewellery for the long run. I am committed to beautiful jewellery inside and out. With this how-to guide, you can be too…
What is ethical jewellery? 
Ethical jewellery is jewellery that has been created respecting the earth and everyone on it. It is a simple concept but with incredible life changing repercussions. For me, the first step is always to know from start to finish, the whole 'life' of that jewel. From the very beginning, where those materials come from, to how it was made and how it gets sold.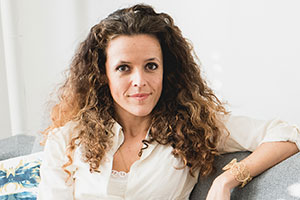 Ethical jewellery is made with materials that have been mined under sustainable standards (like Fairtrade and Fairmined Gold) and everyone and everything involved in their production has been treated respectfully – including the earth – as well as being paid a fair wage. Ethical jewellery is then manufactured sustainably, where the craftsmen and craftswoman responsible for creating the jewellery have been treated fairly and are proud of their creations. Ethical jewels should be sold under a responsible brand that is fully transparent and communicates accurately this wonderful story to their customers.
How do you know your diamond will be ethical?
For us, it is an essential part of our process to provide you with written evidence and assurances that the ring you are buying is not only excellent quality, but certified Fairtrade and ethically sourced. We manage every part of the manufacturing process, we know who engraved your ring, who set the stones and what time of day they set it!
Diamonds are a classic stone that adorn many types of jewellery, from pendants to the all-important engagement ring. Buying a diamond can be intimidating, so it helps to arm yourself with some basic knowledge before you shop…
If you are unsure if a company is ethical, what questions should you ask?
1. What - What materials is it made from?
Your stones and metal must be traceable to be confirmed as ethical and conflict-free. In order to know this, you need to be sure of what the materials are. If you want to know exactly what goes into your ring - just ask! 
Is it fairmined gold? Ecological gold? Perhaps recycled? If you go to your jewellery armed with the right questions, you will get the right answers. 
 
2. Who - Who made this piece of jewellery?
You need to know who made the piece of jewellery in order to find out if the piece was traded fairly. It is important to know who made your jewellery and also who MINED your jewellery. With certifications and stamps you can find out whether the sourcing and creation of your ring has resulted in environmental damage or human rights violations - or if it hasn't. Knowing where metals and gemstones come from - their country of origin and mine of origin - is key in defining their sustainable credentials. 
3. How - How to prove all of the above?
It's quite easy to suss the message you get from your jeweller. If they can prove it is ethical, then they will! For us, we like to prove our traceability with certificates and stamps. For example, to ensure your ring is made with fairmined ecological gold, it is stamped with a hallmark at the Assay Office London, which assures you of its provenance. 
For diamonds, you should be able to receive a certificate of origin. Our larger diamonds (0.3ct and above) are traceable Canadian diamonds and arrive with a GIA certificate or similar. The diamonds also come with the Canada mark, an independently verified certification that assures you the diamond is of Canadian origin.
The most recognised laboratories in the jewellery world are the Gemological institute of America (GIA) and HRC in Europe this where they grade the quality. Keep to a recognised lab and you should find all the information you need. 
The rest is down to you...
We put thought and passion into our engagement rings at Lebrusan Studio, much like you must put into a relationship! For us, it wouldn't be worth it otherwise.
If you want to be a part of our ethical journey whilst spoiling the love of your life, then take a look at our luxury, sustainably sourced ethical engagement ring collection here.