Goldsmiths believe an engagement ring is a symbol of eternal commitment; however choosing the dream ring can be a daunting process. It's essential that it is not only the perfect fit in size but also the right style for you or the person you intend on asking to share your life with. For those searching for inspiration, luxury high street jeweller Goldsmiths has shared an insider insight into what the ring says about its wearer and takes a closer look at a selection of its most iconic styles…
Goldsmiths tells us what the ring says about the wearer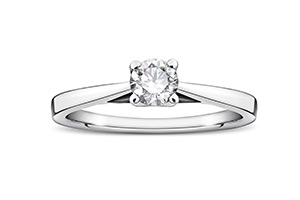 The Brilliant Cut – The Timeless Bride
Trends don't interest this blushing bride as she prefers timeless pieces that never go out of fashion. She is drawn to quintessential romance and may choose the brilliant cut diamond ring, considered the most classic of diamond cuts with its symmetrical shape maximising all of its reflective, multi-dimensional qualities.
Ring: Solitaire Brilliant Cut 0.40 Carat Diamond Ring Set in Platinum, £2,500
The Princess Cut – The Vintage Bride 
This bride-to-be will be dreaming of a unique, retro-themed wedding and draws her creative references from eras gone by. Dating back to the 1960's, the princess cut proves a popular style for this bride which entails sophistication and elegance. The delicate diamond is shaped into four pointed corners and set to best show off the beautiful shine of the stone.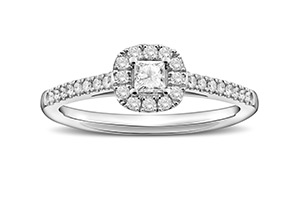 Ring: Princess cut 0.40 total carat weight diamond halo ring with diamond set shoulders in 18 carat white gold, £1,750
The Multi Stone – The Modern bride
She considers herself to be a strong-minded, fashionable woman and a modern romantic at heart so she'll be keen to have something a little different on her finger. The multi-stone ring uses a state-of-the-art diamond setting technique to create a larger visual appearance and one of a full stone creating a high impact design and sparkling statement. The possibilities and shapes vary so the wearer can find a one-of-a-kind look to suit her contemporary taste.
Ring: 18ct White Gold 1.00 Carat Total Weight Diamond Multi Stone Ring, £3,000
For more information please visit Goldsmiths website here.