As we enter into a new leap year, 2020 is expected to see many proposals. Whether its the woman proposing to the man, man to the woman, or same-sex partners popping the big question, this is a special occasion for many couples. 
As couples get engaged, millions will flock to Instagram to share their new shiny rock with the world. If you are looking to pop the question, jewellers William May have undertaken research to reveal the 5 most instagram worthy engagement ring trends right now! 
Instagram Worthy Engagement Ring Styles
The research analysed 1,000 posts on Instagram which included the hashtag #engaged to discover the biggest engagement ring trends, based on those who have recently popped the big question to their partner. The data analysis for the research checked against various criteria, including the rings metal type, cut, colour, carat size and setting.
From the research, results suggested that a simple timeless ring is by far the most popular style, typically made from white gold or platinum (69%), set with a subtle solitaire diamond, sized between 0.5 - 1.00 carats - (58%). There were no engagement rings with a carat size over 2.00+, reflecting that the timeless engagement ring is the most affordable engagement ring of choice and that many people proposing don't want to waste a large sum of money on a potentially wrong, trend-led or quirky choice of engagement ring. 
According to The Diamond Insight Report, Instagram and Snapchat are the two most popular channels with Gen-Z audience. The report revealed that nearly half (47%) of Gen Z would definitely look at social media for inspiration when it comes to choosing an engagement ring, and 8/10 members of Gen Z have Instagram. This made the platform the perfect base for undertaking the research.
William May has undertaken case studies looking at recently engaged couples and the difficult choices behind the choosing of a ring. Jack D Wynn, proposed in Rome to his fiancée Nathan and found that keeping his ring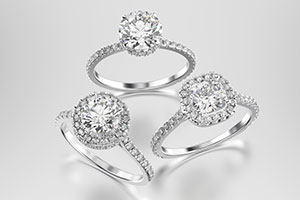 selection simple was the easiest approach. 
"I kept it simple with the ring - from Thomas Sabo as it's one of my fiancée's favourite jewellery brands - but I required a lot of help from my future sister-in-law. I picked a range of different designs from the brand, all sterling silver as, again, it's one of his favourites. Some had quirky designs but my future sister-in-law immediately discounted them as 'not his style'. Instead, I chose a simple sterling silver design with the Thomas Sabo brand name on the rim. Simple and elegant."
Zak proposed to his fiancée Jaz:
"I already had the diamond (solitaire cut) and asked her best friend to come with me to help choose the setting. I actually went against what the jeweller said – he said the setting I went for (crown setting) wasn't very 'in' at the time but I felt it was the best choice, so I went with it anyway!"
Vicky and her fiancée David who are recently engaged:
"He actually proposed with a Claddagh ring (he's Irish) which was the one thing I said I hated! But it was a placeholder and so we chose this one together. I always wanted something different. I didn't want a single diamond (boring) or a row of diamonds. I had always said to him if I was marrying an Irishman I wanted an emerald. We spent a while looking and found this 1920s ring which was originally all diamonds. We asked the jeweller to swap in an emerald for the central diamond and hey presto, I got the unique ring I wanted! I see very few people with square settings and even fewer with baguette diamonds (the long ones round the edge)."
 
Nick Withington, a spokesperson at William May suggests going with your heart is the way forward:
"The analysis we conducted revealed that a large percentage of people still keep to a tight budget based on the carat size and overall design of the ring. We would advise you to go with your heart when making the choice and perhaps even take note of the other jewellery items your partner wears for inspiration". 
Following the ever-popular round diamond engagement ring, here are the top 5 engagement rings giving you inspiration for the year ahead.
Round Diamond
From the data conducted by William May, half (50%) chose to stick to tradition and opted for a simple and timeless round diamond engagement ring.
Cluster
From the data conducted by William May, (10%) chose a cluster type engagement ring. Cluster rings usually contain several smaller stones compacting to look like a larger stone. 
Oval
Oval ring cuts making beautiful engagement rings, often worn by celebrities such as Kate Middleton, Katie Perry and others. William May found (10%) of those who proposed went with an oval cut.
Princess
A princess (square cut) stone is a truly brilliant and elegant cut of a diamond. A contemporary choice, looking very beautiful on the hand. 
Trilogy
A favourite for many around the world as the trilogy rings three centre stones symbolise the past, present and future. This ring looks very classy and the centre stone is often larger than the other two stones on the left and right which are identical.