The hunt is on for Britain's Best Bridesmaid with stag and hen expert Red7 leading the search.
Did your Bridesmaid go above and beyond to make your big day the best it could be? Perhaps she created a perfect bridal survival kit or took charge of the wedding to ensure that bridezilla did not surface. 
Whatever the reason, if your Bridesmaid brought the essence of #squadgoals, Red7 wants to know! 
Red7 is the original and best specialist stag and hen travel agents and boasts over two decades of experience. To honour the hard work that bridesmaids put into weddings, Red7 is asking couples country-wide to nominate their Best Bridesmaid with heart-warming and remarkable tales of why they should be crowned the nation's finest. 
Do you know a Bridesmaid who has earned the title of Britain's Best Bridesmaid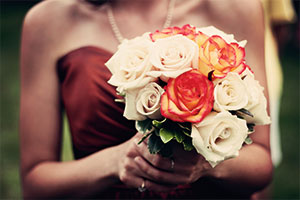 The crème de la crème will not only claim the glory of being Britain's Best Bridesmaid, she will also be treated to mini 'BridesmaidMoon' for two on a short European Cruise to Amsterdam and Bruges*. 
Ian Lucas, Founder of Red7, commented: "We are excited to discover Britain's Best Bridesmaid and see the entries that will no doubt be full of everything from hilarious stories to tear jerking memories.
"The spotlight is usually firmly on the bride and groom on the big day, and rightly so. We thought it would be fun to take a look behind the scenes to the ladies running around to ensure that all is perfect from start to finish. Nominate the best of the best from your #WedSquad and give her the recognition she deserves." 
Last year's winner, Jessica Greener said: "I've been a bridesmaid six times so far! Winning this title is a real testament to the relationships I have with my best friends. I have loved being a part of each wedding, it's so important that I can be there for my friends as they start out on their next adventure."
When it came to organising a festival-themed hen party last year, Jessica was a self-proclaimed 'bridesmaidzilla', "I was a complete control freak, organising everything from the flower garlands to the cocktail recipes. I got a reputation amongst our friends as the hen do party-planner for everyone tying the knot. I must be doing something right – I've just been asked to be a bridesmaid for another wedding in the summer!"
To nominate your Best Bridesmaid, please visit www.facebook.com/redsevenleisure. Entries can be put forward by the bride or groom, and the deadline for submissions is midnight on 16 February 2017.
For more information, please visit www.redsevenleisure.co.uk. 
Event Date:
Wednesday, January 10, 2018 - 14:30