Forget paintballing or go-karting, there are so many exciting and unique activities available for your stag weekend, so why not break the trend and pick something you'll remember forever.
The team from The Stag Company have written up a list of the most unique stag do ideas in 2020, so read on for their suggestions.
Car Smash
Perhaps one of the most bizarre things you can try in Amsterdam, the car smash activity involves exactly what it says on the tin, being given a number of weapons and smashing up a car to bits! Exhilarating and bizarre in equal measure, this is a great activity for a group to really take out any frustrations they may have.
Medieval Banquet
Sip on a tankard of beer and tear into a pig roast as you watch jugglers, jesters and dancing wenches perform in front of you. Of course, it is completely your choice if you want to try the fancy dress yourself, all available at the banquet. This is a brilliant activity for large groups, allowing you all to get some food in your before the drinks carry on long into the night.
Rockstar For The Day
We've all dreamed of getting on stage and performing an unbelievable solo on the guitar in front of a loving audience, but how many of us actually get to live the dream? Well, we can't promise Glastonbury, but with this activity you can get a glimpse of the rock star life, with all the equipment provided for your stag group and your song recorded so you have your own CD! If the groom is a passionate musician, this could be a unique surprise for them, just make sure you have a few other talented individuals within the stag group. You could then go on to perform at the wedding!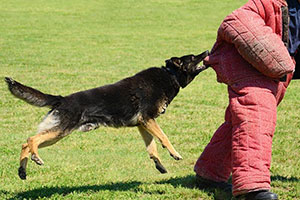 Jedi Training
The force is strong with the groom, so pick up those lightsabers and learn all the moves from a professional trainer, as he goes through a complete choreography. By the end of the day, the whole stag group will be Jedi masters. Or at the very least, they will have some hilarious photos and a great story to tell when they get home.
Rabid Dog Chase
Not exactly everyone's cup of tea, but a great prank for the groom, especially if he isn't a huge fan of dogs. OK, it's not quite a rabid dog, we're not that cruel, it's a K9 police attack dog, so not sure if that's better or worse. Wearing a complete bite protection costume, the dog will be let loose as you laugh hilariously at the groom trying to run away across a field. Again, this is a great one for the photobook and for a few laughs in the best man speech.