Heading off on a glorious honeymoon? Can't decide on the right sun protection? Look no further than Moo Goo.
Choosing products that offer the right level of sun protection can be tricky, especially when seeking a natural alternative, which both protects and hydrates the skin without being too greasy.
According to a University of California study, the process by which sunscreens absorb UV rays can result in the release of harmful compounds, potentially causing skin cancer and premature ageing. The potential risks are making a growing number of people turn to 'natural' sunscreens, which work by reflecting UV radiation off the skin like an umbrella or a mirror.
MooGoo, the Australian natural product range with effective actives and edible ingredients,offer a high quality natural sun care range ensuring skin nourishment and sun protection all in one.
Based on its popular Full Cream Moisturiser, MooGoo 'Cover up Buttercup' with SPF 15(£24.90) contains a special type of clear Zinc Oxide that is dispersed with Jojoba Oil, blocking 93% of harmful UV radiation away from the skin whilst hydrating skin with natural moisturising oils, Natural Vitamin E and Aloe Vera. The NHS recommends wearing at least a factor 15 while in the sun.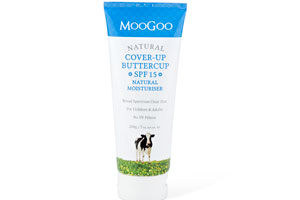 For those looking for a higher factor sun protection, MooGooNatural Sunscreen with SPF 30(£15.00) also contains clear Zinc Oxide and Jojoba Oil, which glides onto the skin providing moisture while blocking 97% of harmful UV radiation away from the skin.
Both products reflect UVA and UVB rays and are suitable for all skin types, providing long lasting protection without penetration enhancers. What's more, the absence of chemicals such as oxybenzone and octinoxate, makes the MooGoo suncare range 'coral friendly', given coral damage from cosmetics has become a growing concern for environmentalists across the globe.
As well as its effective moisturisers and sunscreens, the MooGoo Edible SPF15  Lip Balm(£3.90) is both moisturising and conditioning for lips that tend to dry when temperatures rise. Clear Zinc Oxide and other natural moisturising oils such as Sweet Almond and Jojoba make this a nourishing, natural SPF option for lips.
Just in time for summer travels, MooGoo offer a handy MooGoo Safe SunCare Pack(£24.00) containing everything you need to stay protected in the sun, using natural ingredients. The pack contains MooGoo Natural Sunscreen SPF30 120g, MooGoo Soothing MSM moisturiser 75g- a nourishing moisturiser with the addition of 10% MSM (organic sulphur) a natural skin-soothing compound, and MooGoo SPF15 Lip Balm.
Available nationwide from moogooskincare.co.uk, pharmacies and Whole Foods Market.
Event Date:
Thursday, April 4, 2019 - 14:15