If you want to know how to create the perfect vegan wedding, then look no further – we have spoke to Niki Webster, Founder of RebelRecipes.com - the qualified raw chef and award-winning vegan blogger who has over 260K followers and is growing daily. She is known for her delicious and easily accessible recipes and creating a sustainable way of including vegan into your daily live and she has put together her top tips on creating the perfect vegan wedding, so you can sit back and enjoy every part.
Top tips for planning a vegan wedding
Finding the right venue 
Make sure that when you are booking your venue you are able to choose one that either allows outside catering or to ensure that their on-site caterers have a great selection of delicious vegan dishes.
Be upfront and honest with them from the beginning about your plans. This allows you to work closely with the venue to ensure that all areas are covered, and they are happy to work along-side you in creating your perfect vegan wedding.
The Catering
The catering at a wedding is super important - it's pertinent to not only choose a menu which showcases the bridal parties' personality but one that is also enjoyable for all. You can either book a caterer or do it yourself depending on budget, time and ability.
Caterers 
There are a lot of different specialist vegan and vegetarian caters about but make sure to do your research; read other people's reviews and speak to them directly to ensure they understand what you are looking for. As with any wedding caterer make sure to sample the dishes before-hand and tailor it to your specific tastes and needs.
Some of my favourite vegan caterers at the moment are:
http://www.cashewcatering.co.uk
https://theparsnipship.co.uk/wedding-catering/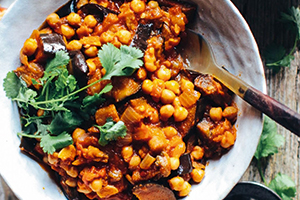 Doing it yourself 
A brilliant way to ensure you are getting exactly what you want from your catering, is to do it yourself. If you able. Here are some of my top ideas on how to wow your guests; 
 
Canapés are always a great way to entertain your guests during the reception or before the ceremony. Make sure to have a variety of different choices so there is something for everyone.
 
During the breakfast - opt for dishes which showcase a wide range of different flavours and textures.  Such as: Moussaka or Roast Pepper Chickpea Stew
 
Or why not go for hearty crowd pleasers such as: Mezze platters or big and hearty salads where your guests can help themselves and get stuck in. A favourite on my blog is
 
Finish BIG with different vegan cheeses, chutneys and fruits to create a delicious board that has the wow factor!
The wedding cake 
Just like with caterers, it's becoming increasingly more accessible to find a great vegan wedding cake company, so you no longer need to compromise on taste or appearance. 
Some of my favourite vegan wedding cake companies at the moment are:
For brilliant Vegan and Organic designs:
https://www.theorganicweddingcakecompany.com/vegan-cake-flavours
You will not find a cake that is healthier or looks more beautiful:
http://www.nkshrewsbury.co.uk/bespoke-vegan-celebration-cakes
Don't forget about cupcakes too
http://www.mscupcake.co.uk/weddings/
Drinks 
Surprisingly to a lot of people – certain drinks, such as wines and champagne are not vegan friendly. A handy trick I have learnt is to use Barnivore.com or the Vegan food & living guide to quickly check what brands are.
If you are looking for delicious vegan friendly champagne, prosecco and wine try: 
https://www.thomsonandscott.com 
 
The Dress 
The dress is one of the most important part of any brides day, and there are a growing number of dress-makers across the country creating beautiful gowns which are both vegan and cruelty free. 
Some gorgeous London boutique options; 
Minna http://www.minna.co.uk/shop/bridal-dresses
Offers vegan and sustainable fabrics 
Tammam http://www.tammam.co.uk