There's a growing trend amongst couples to opt for a truly romantic twilight wedding.  The setting of the sun combined with atmospheric lighting and music gives the whole ceremony a beautiful feel.  And it's not specific to a certain time of the year either.  Twilight weddings are gathering a pace all year round, and here are Cresta Court Hotel's top tips to making it a romantic wedding day.
1 – Book a venue that has access to natural light. You and your guests will want to see the change from late afternoon to night time.  It will help create a romantic setting and add to the excitement of the day.  Also consider the lighting in the room.  You want to create an intimate atmosphere so need to be able to adjust lighting.
2 – Before confirming the time of the wedding make sure you know what time the sun sets to ensure the ceremony coincides with it. 
3 – Book a very good photographer who can work with varying lights.  It may be just turning dark as the ceremony begins, but it will quickly turn to night time, and a different photographic backdrop completely.  Pictures taken outside in the dark can be beautifully shot and create a real point of difference.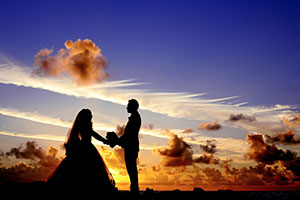 4 – Because the ceremony is later in the day, you will probably only have one sit down meal or buffet, so make it extra special. How about a sophisticated 'vintage' three-course meal with plush velvets or layers of taffeta draped over tables?  Elaborate candelabra in antique gold or polished silver – simple but elegant – with tall candles and a combination of vintage roses and ornate gold cutlery.Or, opt for a far more relaxed street-food vibe.  Food stations offering a range of Asian, Oriental, European and traditional British dishes.  Something to suit all taste-buds and all served in a relaxed, informal style with guests choosing where they sit on long tables which allows wine and conversation to flow. Keeping it stylishly simple?  We offer Twilight Wedding guests gorgeous canapes and Bucks Fizz after the ceremony, then a buffet and DJ in the evening,  Dance the night away!
5 – It's a good excuse to serve hot cocktails!  Hot gin and tonic is popular, alongside boozy hot chocolate (non-alcoholic for children!), warm cider or a hot toddy. Maybe served from a thermos flask?
For more information on Manchester's Best Western Cresta Court Hotel, see cresta-court.co.uk
Twitter - @CrestaCourt
Facebook – @crestacourthotel