Vows & Venues' Wendy Allen-Smith took a trip to Penrith in Cumbria and found the perfect wedding venue which can be combined with a relaxing break…
The North Lakes Hotel and Spa is unbelievably easy to find, even for me, and without a satnav. It is a great location for guests travelling from north or south of the hotel. We stayed for a short overnight spa break, to unwind and relax in lovely surroundings which was not too far off the beaten track and within easy reach of the Lake District. 
On arrival at the hotel the first thing we saw was a log fire, glowing in a beautiful fireplace in the lobby. We immediately felt a sense of relaxation as we walked over to reception where we were greeted by a lovely lady who informed us about the hotel.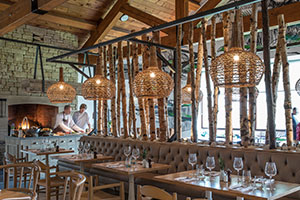 As we walked to our room we noticed the novel décor which ran throughout the hotel and rooms. It was a hiking, eco-friendly nature theme and there was a feeling of nature being brought inside – perfect for the Lake District location.
A wedding venue to switch off in
There were painted hiking signposts which directed us around the hotel and natural wood and stone featured in many forms throughout. Ceilings and carpets carried a map with contours to complement the theme. Our standard room was lovely and cosy with a large TV, coffee facilities and a pillow menu – to ensure you get the perfect pillow for the night.
On the way to the terrace, where we fancied having a coffee, we walked past the beautiful pool area and through the open-plan restaurant and conservatory. The nature theme continued with a partition of wooden branches and high wooden beams. Our drinks were brought to us by another lovely member of staff who was more than willing to stop for a chat. There was also a firepit where wedding parties can enjoy a drink outside on a lovely evening.
After coffee I headed to the spa and fitness area for a treatment and I noticed how well equipped the gym area and studios were, great for a pre- or post-wedding workout. I was greeted and shown to my treatment room by a wonderful therapist who put me at ease and gave a wonderfully relaxing massage – I think I may have even fallen asleep just towards the end! Afterwards I spent a while sitting and sipping lemon and lime-infused water in the chill-out zone. I felt totally switched off from the outside world and deeply relaxed, while listening to running water and mood music.
The wedding function rooms here can cater for both large parties (up to 180 guests) in The Voreda Suite, which has a bar, and smaller weddings (up to 28 guests) in its Little Martindale suite. There is also a red carpet welcome area to offer a glass of champagne and greet guests before they enter the main room.
The hotel can provide preferred partners of trusted people they have worked with, so if you haven't already chosen your all your suppliers then have a look at the website. For example, a recommended photographer has great local knowledge and will take couples out for more dramatic background shots, against a castle ruin or a mountain. There is also a pergola in the grounds that would make a great setting for photos. 
The hotel has some dog-friendly rooms with an outside area to exercise them, so your canine friends can be with you on your special day. They could join the celebrations with you on the terrace!
Our three-course dinner was amazing: we sat close to the open flame grill to get extra cosy. The waiter was extremely knowledgeable and helpful with our dietary needs and choice of wine. We opted for chargrilled chicken and beef steak, which was cooked to perfection, followed by delicious sweet desserts.
In the morning, after a fabulous English breakfast of course, we strolled over to the Penrith castle ruins which is only a few minutes' walk from the hotel. We left feeling rested, relaxed and pampered – truly what any bride and groom want to feel after their perfect English country wedding.
For more information on the North Lakes Hotel wedding venue's wedding packages, click here.