Every wedding day should be fit for a princess, so what could be better than the fairytale dream of princess ball gowns, rose petals and the traditional horse and carriage for your wedding transport? 
The image of the perfect wedding can mean different things to different people, but it can be hard to shake off that expectation of a big white wedding.
However, gone are the days when every bride must resemble a meringue-based dessert and say "I do" in the family church.
Nowadays, the most important thing to a 21st-century bride is to make sure her big day is 100% unique.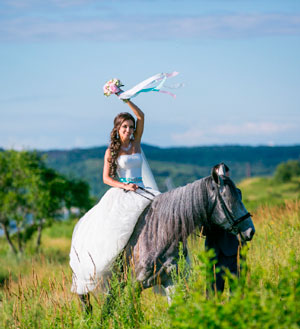 And, as luck would have it, the only rule for a modern-day wedding is: anything goes. From romantic ceremonies on a tropical beach at sunset, to festival-fevered raves completed with wellington boots and a tipi, you can make sure your wedding is exactly what you want it to be, and that includes transport.
Transport is undoubtedly one of the biggest headaches for brides-to-be, particularly if your ceremony is taking place at a different location to your reception venue. And of course, it is not just the bride you have to consider, but the entire wedding party and guests, and don't forget that whoever is giving you away will have to find a different way to the reception venue to make room for your new husband!
However, in a bid to reduce complications and help you make a real statement on your big day, we have compiled a list of top 5 wedding transport tips.
Horseback
A horse and cart might be the traditional way to get around on your wedding day, but why not take a different approach and ditch the cart? Not only will your guests never forget your method of transport, but it would also make for some stunning photos. Channel your inner Maggie Carpenter (aka Julia Roberts from the 1994 romantic-comedy Runaway Bride) and create a real sense of drama on your trusty steed with a show-stopping gown and long, flowing hair.
Bicycle
If horses aren't your thing - and you don't have far to travel- why not consider an old-fashioned bicycle? Oozing with rustic charm and simplicity, bicycles are both easy to find and cost-effective and will definitely add a bit of character to your big day. Furthermore, why not tie it in with your something old and incorporate a sense of nostalgia by using a family member's old bicycle? You could even paint it blue!
Vintage motorcycle
If chic is much more your style, opt for the ultimate symbol of cool and cash in on a vintage motorcycle. Whizz away from your ceremony on the back of a classic Vespa, veil blowing in the wind, and leave your guests in awe of your impeccable sense of style.
London bus
For brides needing to travel between their ceremony and reception venues, one of the biggest stresses of the day can be transporting friends and family. Fears of guests arriving late and sneaking in behind the bride after getting lost en route can easily take the excitement out of wedding planning, and many brides will have to consider friends and family members who are unable to drive (as well of those who might be enjoying a glass or two in the morning!). The perfect solution is hiring a bus to transport all of your guests, and what would be more memorable than a bright red London bus? What's more, you can kick-start the party directly after the nuptials with a make-your-own party bag.
Train
Nothing says romance quite like the 1940s' film Brief Encounter. This classic love story is one that speaks to people of all generations, and it all began at a small railway station. Heritage railways are still a huge part of the British tourism industry and span the entire length and breadth of the country. With picturesque little stations and stunning countryside to enjoy (and not to mention the evocative smell of steam), incorporating an old-fashioned train journey into the mix would be a truly unique way for you and your guests to enjoy the day.