By Laura Devine of Devine Bride : I used to work in the world of beauty for a skincare company and for a luxury fragrance company, and I've picked up more than a few tips along the way. So I wanted to combine this with my knowledge, as both a bride and a wedding planner, in my wedding beauty dos and don'ts for your wedding day…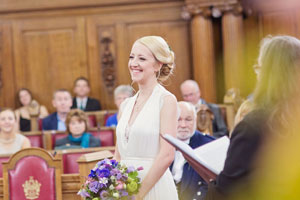 DO invest in an industrial deodorant! And try it out in the weeks leading up to your wedding to ensure it works for you and your skin type.  Look out for key words on deodorants like 'stress control' or 'sports strength'.
DO book a few free make up and beauty consultations at different department store beauty counters along your whole planning journey to build up your confidence and to gather knowledge ahead of your make up trial. 
DO ask your makeup artist for the lip colour and brand that worked during your trial, so you can buy one to have in your maid's bag of tricks to reapply on the day as needed. 
DO consider a smoothing BB/CC cream for your arms and body, depending on your dress.  This will be a slightly different colour match to the skin on your face.  Like your makeup, try this out well ahead of your wedding day to ensure it works for you.  Foundations are too heavy for your arms and décolleté area, so stick to BB/CC creams for a lighter but good coverage. 
DO ask for a sample size of your wedding perfume to try it out ahead of the big day (possibly the same day you do your hair and makeup trial, so you don't get the smell confused with other emotions or events). Test its staying power and check your skin type doesn't react to it – do this before investing in a larger version. 
DO buy an Eau de Parfum (EDP) rather than an Eau de Toilette (EDT) – it'll last much longer on your skin throughout the day and you will notice the quality in the scent. 
DON'T shave your underarms until the morning of the wedding, so you are smooth and silky all day and night. 
However
DON'T put deodorant on straight after you have shaved – the skin is raw.  Avoid nasty rashes, pimples, and ingrown hairs on your honeymoon by waiting at least 3 hours after shaving before applying deodorant. 
DON'T use all completely new products on your wedding day!  As fun as it might be to buy into everything new and shiny for the big day, this is a very big no go!  You'll have up get used to using and applying them, as well as letting your skin adjust to them – let alone find out if your skin has any reactions to them! 
DON'T switch up your routine entirely the week before your wedding – if you want to incorporate new products or a longer routine, try this 2 months before as a minimum. 
DON'T go for a facial the week before!  Although decadent and luxurious, facials encourage all the dead skin cells to the surface and breakouts are common in the week immediately after having one… definitely not what you want for the week of your wedding! 
DON'T use any products on your face that contain an SPF – it will ruin your photos, trust me.  SPFs reflect really badly in professional photos, just do a google image search on 'SPF photo flashback' to see for yourself. You can thank me later.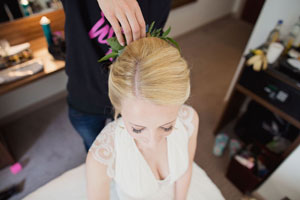 Some of these may sound obvious, but you'll have so much else going on nearer the time it sometimes helps to have list to remind you!  In the end, common sense and preparation is key.
Good luck with the rest of your planning, and if you need any help or any more ideas please don't hesitate to drop me a line. You can find me over at www.devinebride.co.uk and on Instagram as @devinebride. You can also say hello via laura@devinebride.co.uk.

Laura x
By Laura Devine of Devine Bride
Photography courtesy of www.cottoncandyweddings.co.uk