Wedding planning specialists Radhika & you give Vows and Venues there top tips for planning a wedding. 
When you're newly engaged and trying to start planning your wedding, there are a lot of emotions and thoughts running through your mind. We often speak to couples who are overwhelmed with the wedding planning process and not knowing where to start as there is so much to think about and organise.
We completely understand that couples will be thinking about everything from A to Z including guest numbers, their dream venue through to the flower arrangements and the smaller details.
We are a couple-based team at Radhika & You and have been planning weddings for couples for five years now. We recently got engaged ourselves in November 2018 and have now started to plan our Indian wedding with multiple events.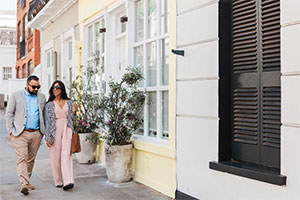 Throughout our personal journey of planning, we have followed the methods we use for our couples and so have put together some tips for any of you who are also starting to plan your own wedding:
It's very important you decide on a budget between yourselves and stick to it. It is very easy to get carried away when you see the endless options available from wedding suppliers, so keep your budget in mind.
The wedding planning journey is definitely an emotional one and you will get the opinions of many people around you, but we've stayed true to ourselves and listened to our hearts with the decisions we've made. Please try and do the same.
Many decisions to make while wedding planning
There are many decisions to make from the wedding entrance song, canape choices through to entertainment selection and which centrepieces to opt for. What we've done and tell our couples as well, is to not be rushed into decisions.
As we're planning multiple wedding events it can often get quite full on and so we plan date nights to ensure we have some time away from work and 'wedmin'.
We highly recommend you meet all of your suppliers in person and book suppliers you get on well with as you will be working with them for a long period of time. As we are now experiencing things from a couple's perspective, we completely understand that every interaction with our suppliers matters even more. We opted for people based on a handful of variables; one of them being communication with us and response times.
The most important thing is to enjoy being engaged and the run up to your big day. It's an exciting and magical time! It can get intense, but remember the reason why you are getting married and try to not let the planning stress takeover.
Radhika Nathwani
Radhika & You