A firm favourite with A-listers from Madonna to Leo DiCaprio, Ibiza has long been the coolest place to party in Europe. Offering luxury accommodation, white sands and nightlife that's the envy of the world, Ibiza is the idyllic beach wedding location. If you're planning an Ibiza wedding, we've put together a quick guide on the top 5 things you need to consider before you book.
1. The venue 
Where do you start? You may have an idea already if you've been to White Isle in the past. But there are so many hotels out there which offer wedding packages, it's hard to know where to start. Luckily, there are plenty of travel firms out there who will advise and even offer wedding services – see First Choice as an example. Or for a more personal, bespoke wedding try an Ibiza-based bookings service like ibizaforwedding.com to find your perfect Ibiza wedding venue.
2. Travel
Passports can take a while to apply for – from filling out the forms to getting the photos and countersignatures. Then they can take a few weeks to process – more in busy holiday periods. Not only that, but Brexit has had an effect on travel and leaving the EU means that from April 2019, the rules for passports, driving, EHIC cards, pet travel and more have changed. You may need to renew your British passport earlier: this is because on the day of travel, you need six months left on the expiry term and your passports must ALSO be less than 10 years old. There is an online tool at passport.service.gov.uk to help you check if your passport will be valid for your Ibiza wedding – and remember to ask guests to check too. 
3. Guests 
The big dilemma for planning any foreign wedding – who should you invite? Are you going to pay for their travel? How about their accommodation? Villa or hotel? You'll no doubt be asking most guests to pay for themselves, or at least to contribute. Consider who you want to be there the most and draw up a shortlist – remember this list may get longer as friends and family get wind of your plans and invite themselves! Stay focused on what you want as a couple and don't be guilt-tripped into inviting people. A party back at home after the main event is always an option if you want to invite more people to join in celebrating your marriage.
4. Insurance
Right from the off, it's important to have the right travel and wedding insurance in place. Neil Wright, founder of multi award-winning travel insurance company CoverForYou, said: "As tedious as it sounds, insurance is an absolute must for your Ibiza destination wedding. It'll give you peace of mind for any delayed flights and mislaid or damaged valuables, either in transit or stored in your accommodation. Our Europe policies that cover Ibiza start from £9.75 for an individual for a week (or £14.75 for a couple) and from £12.25 with specific wedding cover to protect everything from ceremonial attire, wedding gifts, wedding rings, photographs and video recordings of your special day. 
"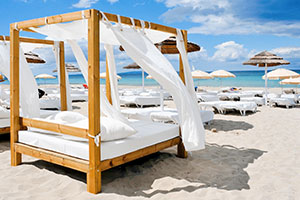 A handy tip – purchase a policy from the time of booking rather than your trip start-date to ensure you're covered for any pre-holiday issues (such as medical or flight disruptions), and opt for a travel disruption add-on for extra protection.  
"At CoverForYou we pride ourselves in transparency and customer relations, providing flexible, bespoke cover with zero excess and paying out 90% of claims to ensure customers' needs – especially brides' – always come first." 
5. Outfits 
Not only will you need to consider the heat – the average temperature in Ibiza in the summer months hits 26ºC – but remember that is an average and some days can be much hotter. Layers and fitted designs look lovely when tried on in the shop but think: Am I going to be cool and comfortable in this? Will I be OK dragging this dress along the beach? Can I transport this dress easily? If the answer to any of these questions is no, then keep looking! Little Black Dress has a selection of wedding dresses which are sleek, stylish and won't break the bank – it even has a beach wedding section suitable for brides or guests, to help you find the perfect Ibiza wedding outfit – see littleblackdress.co.uk