So you've booked the wedding, and the first thing on your friends' minds? The stag and hen parties, obviously.
With a range of budgets, people living in different parts of the country and work/family life making availability an issue, it can be a real headache trying to decide what to do and arrange an event. So at Vows & Venues, we've done some of the research for you by checking out unusual stag and hen parties which won't break the bank…
Camping and glamping​
Glamping is more popular than ever before, with a new survey revealing 10% of holiday park visitors are tent dwellers. For those not into roughing it, a pod or treehouse can offer pretty much the same luxury as a hotel room.
Check out 10 of the most the amazing treehouses on offer here, or explore glamping stag dos at Quality Unearthed. 
If you're looking for an even cheaper alternative to hotels and are willing to brave the weather, camping can be a great option for a stag or hen party – as long as you're prepared.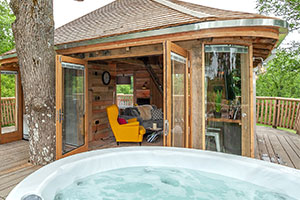 David Scotland from Outdoor World Direct says:   "At Outdoor World Direct we've seen a growing trend in Brits buying tents and camping equipment for stag parties. There's something special about getting away from everyday life and going back to basics that brings people closer together, plus it's much more affordable, mature and often fun than a 'dirty weekend' in Benidorm or Marbella.
"Outdoor activity weekends are also proving more popular with the stag and hen crowd; people are getting more adventurous with their stag and hen weekends, trying their activities such as rock climbing, zip lining and exploring caves for their last weekend of freedom.
"In terms of where to go, those based in the north are lucky to have the Lake District, Peak District and Scottish Highlands all within reach for a weekend away. Wales is also a popular area for camping and outdoor pursuits including full-day adventures in slate mines and the fastest zip line in the world.
"Of course, with the British weather, I'd recommend getting some tents with adequate waterproofing. Outdoor World Direct has an excellent range of affordable Vango tents, that ensure a dry night's sleep in wet and windy conditions."
Average cost: Through pitchup.com you can camp for a night at a park near York on a weekend in July for just £20 per person for two nights if you bring your own tent. Or book a lodge for £30 per person for two nights at a park near Preston.
An active hen or stag do
The Crystal Maze LIVE Experience is an hilariously funny, interactive experience based on the popular 90s TV show with Richard O'Brien and ideal for stag and hen parties.
Based in Manchester and London, The Crystal Maze LIVE Experience puts the wife or husband-to-be as the team captain, and a designated Maze Master will guide you through the four themed zones – Medieval, Aztec, Industrial and Future.
You and your squad must work together to complete a series of challenges against the clock before entering the iconic Crystal Dome, where the aim is to catch as many golden tokens as possible.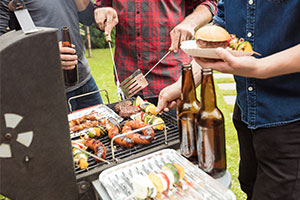 Crazy golf gets even crazier after a few pints, and Ghetto Golf has ingeniously combined beer and sport at their attractions in Liverpool and Birmingham. The organisers say: "Ghetto Golf is the venue that has a seriously twisted 18 hole mini golf experience, an exceptional cocktail bar, top local DJ's and captivating graffiti artwork. The fun doesn't stop there, there is a cosy outdoor bar and we have BBQ masters Apocalypse Cow to entice you with their delicious street food. And it's all housed within the old Cains Brewery, so come join the party!"
Average cost: The Crystal Maze in Manchester can be booked on a Saturday afternoon in July for around £50 per person – morning slots are cheaper if you're willing to start early! Ghetto Golf offers packages for £30 per person, which includes some drinks, but contact directly if you're arranging a stag or hen party as further packages are available. 
Eyes down for a wild night out
Meanwhile, if booze, boogying and, er, bingo are your ideal elements when it comes to a night out, then book tickets for Bongo's Bingo. Not for the faint-hearted, these wild nights out are organised around bingo games, with prizes from cheeseburgers to vacuum cleaners. The nights are held in various venues in Liverpool, Blackpool, across the north and beyond. You can even find Bongo's Bingo in Paris and Ibiza!
Average cost: cheap as chips at around £14 a ticket, but the issue here is the events sell out so fast – sign up for the newsletter to be the first to find out when bingo nights are being held.
Photo: Coolstays' Trawscwm Treehouse at Llandrindod Wells - Powys