Wear contemporary and chic pearls on your wedding day with beautiful bridal pearl jewellery styles from Claudia Bradby. Introducing Signature Hearts, a collection featuring pearl pendant necklaces, chokers and stud earrings, so beautiful you'll be sure to dazzle on your big day!
Inspired by classic romanticism, such as an English rose garden, the pieces capture the feeling of finding something genuine, hidden deep amid life's distractions. The modern and versatile pearl jewellery collection features striking heart motifs in rose gold and timeless rhodium, paired with lustrous natural seed pearls in delicate blushed pink and ethereal white.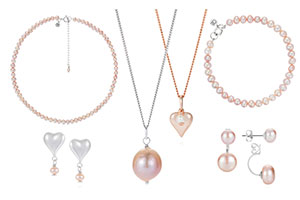 Style the pearl jewellery collection in your own personal way - the adjustable necklace chain allows the wearer to choose their preferred length. Of note is the shortest length, which at 14 inches was specifically designed by Claudia to be worn as a choker, in line with current trends.
Showcase the Signature hearts silver earrings with an elegant up do on your wedding day, accented by the blushed pink bracelet. If your dress is low-cut then opt for the delicate rose-gold heart pendant with a floating seed pearl or dare to be different in modern pearls on your big day with the pretty pearl chokers.
Get that wedding day buzz everyday by adapting the versatile pearl jewellery collection to your usual wardrobe! Pair the choker style necklaces with other pendants for a layered necklace look or for ultimate ear party style, wear the earrings individually or mix and match colours to tap into this season's asymmetric earrings trend.
Celebrating the pearl's long history as a token of love - most famously the La Peregrina pearl gifted to Liz Taylor by Richard Burton. Claudia Bradby's collection introduces a contemporary new take on the traditional pearl, for an elegant wedding look, plus it's pearl jewellery you can wear afterwards too!
Since 1999, Claudia Bradby Jewellery has had one simple belief; that every woman should be afforded the luxury of beautiful pearls, every day. A single pearl is as unique as a fingerprint and Claudia Bradby pearl jewellery is designed to display the individuality and natural beauty of pearls to the best effect. Only genuine, high quality materials are used in the designs with each pearl being cultivated for a minimum of 18 months before being carefully selected for their lustre, shape and size.
The pearl jewellery collections reflect Claudia's signature style of 'low-key luxury', combining versatility with effortless style. With a belief that pearls have a place in every woman's daily wardrobe which can be edited for all occasions.
To explore more from the collection visit the website at: https://www.claudiabradby.com/