We know how difficult it can be choosing 'the one', in this case, the one image that captures your big day for you to have on display for friends and family.  What if you didn't have to choose one, but could choose any number of images to display in a unique and illuminating way? ArtLux presents a unique and innovative, combined lighting and framing solution, an ArtLux LightBox.  It creates a real impact in any location and lifting your photos beyond the wall, the light bringing them to life, giving them a real 'wow' factor.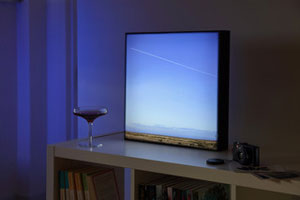 And you don't have to have just the one photograph, our clever framing system means it takes only seconds to change the photographs, so you can change what you display as often as you like.  A special intimate moment for you and your partner, the big wedding party picture to show your friends and the family portrait for when mum and dad visit www.artlux.co.uk/lightbox.  
How does it the ArtLux LightBox work?  
An ArtLux LightBox consists of an LED panel incorporated into an aluminium frame with the image, a high quality photo printed on a lightweight polyester, stretched into grooves around the frame creating a perfect surface.   You plug it in, switch it on and see your photo come to life, it's as simple as that!   Photographic images are printed on state of the art machines, allowing beautiful detail, right down to the finest lace or beading on your wedding dress and the subtlest of tones in your bouquet.  Any photographs not being used roll up and store easily.  
All our LightBox Frames are bespoke and can come in almost any size and a variety of finishes; we have over 40 gorgeous bespoke cable options too or can recommend electricians to chase cables into walls.   We're also eco friendly using low power LEDS, eco friendly inks and recycled aluminium in our frames.(59) For more information please visit www.artlux.co.uk/faq-s.
All this comes at a great price.  LightBox Frames, complete with 2 photographic images, start at £365, with additional images starting at only £25 each; that's great value for top quality photographic reproduction. 
You can contact us on www.artlux.co.uk/contact
For more information please visit www.artlux.co.uk