Your wedding music has a crucial role to play on your wedding day. It'll add to the atmosphere and help entertain your wedding guests, but you can't simply turn on the radio. You have to pick the right music to match your chosen wedding venue.
Your chosen wedding venue is an important element in setting the ambience for the big day. The surroundings will impact the overall tone and therefore, it's important to make sure the music enhances them. 
How can you match your wedding music with your venue?
Size matters
The venue size matters when it comes to picking your wedding music. You will have to ensure the venue is equipped to manage your chosen band, of course. The stage or area where the band will perform has to be big enough for the band and you'll need to ensure the technology is in place to cater to the performer's needs. We've heard stories in the past of bands turning up to venues without sound equipment because they were told the venue would provide it, only to find that wasn't the case. Avoid this at all costs or an impromptu acoustic set might be as good as your wedding music is going to get.
The size also impacts the kind of band you should choose. For big spaces, you want to have a band with a big presence. A solo singer singing folk music at a castle just might not have the same grandiose impact as a sextet playing brass music. Likewise, a small intimate barn will be more suitable for a small string quartet rather than a massive choir or a loud pop band playing the newest hits.
Theme it up
Your wedding venue will influence your chosen wedding themeand the atmosphere. You should consider the feeling and emotions your chosen venue stirs in you and find music that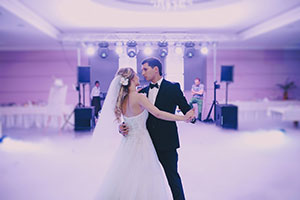 elevates and enhances these. What is the music you hear in your head when you first enter your chosen venue?
If your venue is historic and old, you might want to pick timeless music. An old mansion will be the perfect backdrop to a classical or jazz band. On the other hand, if your venue is a nightclub, you might want something more modern and upbeat such as a pop band. 
Consider history 
As many popular wedding venues often have a long history behind them, you should also consider this as well as the history of the wider area. If you're getting married in a Scottish or Irish venue, a ceilidh band might enhance the atmosphere. Perhaps you're getting married in a venue that used to be a jazz club and by having a jazz band playing, you're paying homage to the venue. 
Wedding venues can have interesting stories to tell and by having a band that can tell these, you add another layer to your entertainment. It can make the music more touching. 
Add magic to your venue with your wedding music
By matching your wedding music with your venue, you make your wedding entertainment enhance the ambience. Your music will tell the story and take your wedding guests on a journey in your chosen location. When the two are picked in consideration with each other, you'll end up creating an authentic experience. So, when you're picking your wedding music, think about your wedding venue as well!
Find out about Freak Music here
Related Articles
How to pick the perfect wedding entertainment