When it comes to having a trial run for your bridal hairstyle, it's always a good idea to book this the same day as your dress fitting and makeup trial. The reason for this is that it gives the bride the chance to see their overall look there and then, rather than on the wedding day where she may not feel it looks right and it's too late, as most often the stylist has left before the bride puts on their dress.
One of my favourite on trend bridal hairstyles for AW17 is the low ponytail. This look is chic and elegant and looks especially great when hair has been styled into loose waves before being put into a pony, giving it a more romantic look. Ponytails are great as there are styles to suit everyone, whether you want to have a textured ponytail or a more sleek style. Hair accessories are great for completing the look. The ribbon is one of the most on trend bridal accessories for the season and they perfectly with this look to secure the ponytail together and give it an extra bit of edge.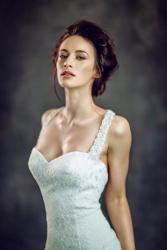 Buns and chignons are also popular bridal hairstyles for AW17. The chignon is a classic and looks great when worn low, whereas a bun can be worn low with some sections of hair left out for a relaxed look or can be worn high for a more sleek look. Again, these looks can be paired with on trend accessories such as embellished headbands and bejeweled brooches.
Big bouncy curls that have been popular with brides in previous years have been replaced with more relaxed, effortless waves for AW17. This is a very romantic look, which can be achieved either by using product, such as a texturising spray in natural hair, or by using flat irons or curlers. I'd always recommend brushing the hair out after using flat irons or curlers to give it a softer finish.
Quotes from Michelle Paterson, hair manager at Pouts and Pinups.
Event Date:
Tuesday, August 22, 2017 - 14:30