Step 1 - Book Your Venue
Whether it be a big country house, village hall, a marquee, or an urban venue – look at the décor that is already there.  Look at the walls – what colour are they? Look at the furniture, ornaments and wall hangings.  Don't forget to look down at your feet! – What colour and pattern do you see?  I have seen hotels with red and gold patterned carpets, and the bridal party chose hot pink as their main colour.  No no no!  Just no! You've got be a wizard capable of actual magic to make this work.  
The best venues are ones that have white walls, minimal décor and wood flooring – a blank canvas.
Step 2 – Hire a Wedding Planner
That's just going to cost me even more money, I hear you cry.  Oh no my friend, actually this could be the best decision you have made about your whole wedding.  A wedding planner has all the knowledge and the contacts to make your day perfect with absolutely no stress to you and your partner.  A planner can get you discounts, thus staying within your budget but with no planning or stress on your side.  Sounds like wedding heaven to me! 
If you decide against a planner then another great tip is to create a mood board.  Get all those pics you love off Pinterest, print them off.  Get fabric samples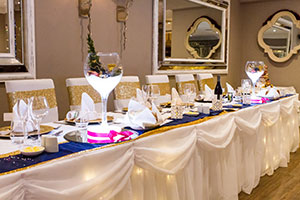 and maybe get those crayons out to help you get your colour scheme together.  This will help all your suppliers understand what you really want your day to be like.
Step 3 – Pick Your Theme and Colour Scheme
What is in fashion now may not be in two years' time when your wedding day actually arrives.  My tip is to think about you and your partner's personalities and interests. Go with what you both like rather then trying to go with the trend.  Also, keep in mind Step 1 – your venue!  You may want to talk to a florist at this stage which brings us onto Step 4…
Step 4 – Choose Your Flowers
Find out what flowers are in season at the time of your wedding day.  Your florist may be able to provide flowers that are not in season but ultimately this will cost more money, so it all depends on your budget.  Your flowers and colour scheme should complement each other. So don't hold tightly onto one idea, be flexible.
Step 5 – Book Your Venue Stylist
With all of your previous steps checked and done you can now book your venue stylist, but why do you need one? As a venue stylist myself at Enchanted Wedding my job is to take care of all the visual details, big and small, that will make your wedding a cherished memory. Everything from room décor to centerpieces and seating plans is the domain of the venue stylist, use their eye for flair and their creative brain to make the wedding you dream of.