Getting married and need some help finding the perfect bridal jewellery? Here are five things to keep in mind while you shop — including the strange reason some people say you should never wear pearls on your wedding day.
Go for something timeless
Marriage is (hopefully) eternal, but trends come and go. Bridal styles tend to reflect the fashions of the era, as these wedding dresses from across the decades go to show! From the voluminous sleeves of the 1980s to the strapless dresses of today, bridal styles are constantly changing, and trends in jewellery are no exception.
With the outfit captured forever in your wedding photos, it's important to pick timeless items that won't look dated when you revisit them years later. So, opt for something classic that will age well, like a pair of simple diamond stud earrings, and team with a matching necklace. Plus, sticking to classic designs means your jewellery will stay stylish for years to come, meaning they don't end up hidden away at the back of your jewellery box.
Pick your dress first
Shop for jewellery after you've found the dress of your dreams (preferably after you've had it professionally fitted) so you have an idea of which areas will be visible. For instance, a necklace will co-ordinate beautifully with a strapless or off-the-shoulder gown, but would be difficult to wear under a high neckline or collar.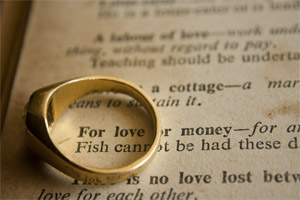 Keep it simple
Be careful not to overdo it. Although it's tempting to pick the biggest, flashiest jewellery on the market, this could overwhelm your outfit. Stick to one or two pieces, like a pendant necklace and matching bracelet, to sure you look elegant rather than garish. The dress is the main attraction, so treat the jewellery as the finishing touch rather than the focal point.
Follow tradition
Superstitious brides might want to avoid wearing pearls. Thought to resemble tears, pearls were traditionally believed to bring bad luck to the wearer and foreshadow unhappiness in the future of the married couple. In fact, they were thought to be so unlucky it was even a bad omen to give pearls as a wedding gift!
So what sort of jewellery will bring good luck on the big day? All brides know the traditional adage: 'something old, something new, something borrowed, something blue'. Each item is thought to act as a good luck charm, bringing happiness and prosperity to the newlyweds.
A vintage or pre-owned necklace is an elegant way to incorporate that 'something old' into your wedding vows, and can save you a good chunk of money, too — just see this wedding-ready collection of necklaces from Est.1897. Even if you're not superstitious, including a tribute to the old traditions can be a charming touch.
Treat it as an investment
Nowadays the average cost of wedding jewellery is £2,849, so it's important to pick something with longevity. Treat it as an investment and pick something long-wearing and easy to style which you will want to wear after your wedding. A piece of bridal jewellery could even become a family heirloom, so it's prudent to spend a little extra on something hardwearing, simple and classic.
There you have it — follow our tips, and you'll soon find the perfect bridal jewellery to wear on your big day and beyond.