Emma Leighton, founder of Divine Makeup, Hawarden near Chester, gives her 5 best tips for the perfect winter wedding makeup
I love a winter wedding. Twinkling fairy lights, and cosy fireplaces, fur capes teamed with delicate dresses and gorgeous wedding bouquets full of winter blooms. And for a winter bride, it's a wonderful opportunity to create a unique, beautiful look.
Here are our 5 tips for beautiful winter wedding makeup.
1. Work with the light
It's so important to make sure that your makeup works in natural light as this is where you will most likely be getting your pictures taken. In winter, the sun is much lower in the sky creating wonderful conditions for your wedding pictures but it can also create shadows and highlight blue-ish areas like under eyes. Apply your makeup near to a window with the natural light pouring through and make the most of light-reflective and colour correcting products.
2. Eliminate dry skin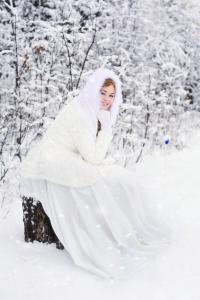 In summer the major issue is making sure makeup doesn't slide off as the day progresses but the harsher weather and central heating of winter means your enemy will be the dry, flaky skin characteristic of the season. By taking care of your skin in the weeks and months leading up to your wedding with a series of facials you can ensure you're looking your best.
3. Experiment with colour
One of the best things about a winter wedding is the colours. From russet reds, plums and coppers to icy whites and dramatic charcoals. When I work with a bride, I will always ask about the style of dress, her venue as well as look at her natural colouring as this all influences the colours that will work best. Most makeup artists will suggest a makeup trial, and this is the time to experiment and find a winter look that you love.
4. It's all about that base
The best makeup works from a good base and this is particularly true in winter. A primer creates balance in the skin, makes it smooth, ups the moisture level and avoids makeup settling into fine lines. I use Airbase, high definition airbrush makeup and they have a brilliant perfecting primer that is ideal for winter brides.
5. Dramatic crimson
If you're going for deep, rich shades for your bridesmaids' dresses, it can look amazing to match the colour of the dress to the eye makeup. Try crimson shades with gorgeous red dresses, breaking up the colour with a cream fur stole.
https://www.instagram.com/_divinemakeup/
https://www.facebook.com/divinemakeupchester/
https://twitter.com/DivineMakeup_