Whether just engaged or a few months away from walking down the aisle, every bride-to-be wants to ensure that her special day is perfect – from her impeccable hair and flawless makeup to THE dress that she has been dreaming of wearing down the aisle. 
More than just a bridal store, Luella's offers a holistic service to brides.  Rachel and her team welcome you into a luxurious setting and present you with a specially curated collection of bridalwear from worldwide designers, including Limor Rosen, Vicky Rowe, Inbal Raviv, Rose & Delilah and Gwendolynne. 
Brides can expect a dedicated, personalised approach; as they are offered private consultations with a wedding stylist. You can have a bespoke dress made or an existing dress customised and even sent anywhere in the world. You can also choose from a wide selection of shoes and accessories to complete your unique bridal look.
Rachel Attwell, founder and Creative Director at Luella's says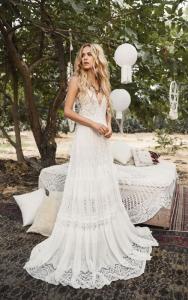 "Luella's is a bridal boutique with a difference; we don't have traditional dresses, we have a collection of modern, bohemian styles from globally hand-picked designers, all exclusive to our boutique. This year's collections are an unusual mix of dresses with big dramatic skirts, elaborate fabric choices with big trains and lots of detailing to minimalistic, extremely simple style dresses, with very little volume".
Founded in 2005 by Rachel Attwell, Luella's is the ultimate modern bridal boutique offering a stunning selection of beautiful dresses in a luxurious setting.  With the flagship store in Wimbledon Village, Rachel and her team handpick designers from all over the world to curate a beautiful collection of products which is exclusive to them.  2016 saw the launch of their own collection of wedding dresses.  www.luellas.co.uk
On 24th June, Luella's will be holding an appointment-only Sample Sale with up to 70% off on bridalwear – from 10am-5pm.
To book an appointment, call on 020 88797744 or email at appointments@luellas.co.uk