Every soon to be wed couple will have a vision in their minds of what they expect their big day to be like. Whether it's an intimate family celebration, or a lavish soiree with hundreds of guests, its important to go with what works for you as a couple. While there are always small touches which you can use to personalise your big day, nothing works better for creative couples, than a blank canvas venue.
While the prospect can at first seem daunting, nothing gives you more freedom to be creative and tell your story your way. The chance to craft a completely bespoke wedding experience is something that many brides and grooms are turning towards as they seek to tailor their special day to their background, relationship story and lifestyle. So what exactly makes a blank canvas so appealing to those with an eye for the finer details?
Creative freedom
A blank canvas is like a blank page, waiting to be filled with ideas, designs and themes that are special to you as a couple. Whether it be a nod to a special family memory, a specific style of cuisine or even a grand entrance, everything can be tailored to your specific requirements with few of the restrictions that come with heritage or public venues.
At Altitude London for example, we can make use of partitions to increase flexibility and separate our entire venue into individual areas. This gives couples a range of different format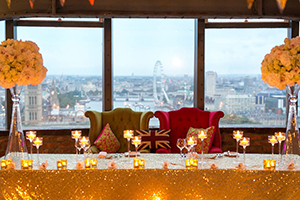 options and means they are able to transform our venue as they see fit.
No one wants a cookie-cutter experience, especially when it comes to your wedding. When you opt for a blank canvas space, you can rest assured knowing that your big day is totally unique and all about your own personal style!
Cost effective
With a tailormade wedding, you chose exactly what you want and, sometimes more importantly, what you don't want. Often venues will include things like catering, furniture and entertainment in their prices, meaning you end up paying for the service whether you use it or not. 
At Altitude London, we ensure that couples only pay for what they want and what they use. This means you can spend the money where it matters and can mix and match services as it suits you.
Expert events team
When you chose a blank canvas venue, you'll also receive all the expertise from the team behind it. While a blank canvas space can sometimes seem intimidating, the events team will no doubt have seen the space styled in all manor of different formats and will be able to offer expert guidance on how to get the most out of the venue, while bringing your vision to life.
They will be able to highlight past events that have utilised certain features and suggest how you could achieve a similar effect on your big day. This will give you a little inspiration without compromising on your own unique vision.
Remember, weddings should be a reflection of the couple themselves, so an element of creativity and personalisation is key. For couples willing to take the leap and stamp their mark on the day, nothing beats a blank canvas space!
For more information about holding your wedding reception at Altitude London, please click here or contact the wedding team on 0203 019 6500.
Article by: Aneeza Qureshi, Private and Special Events Manager at Altitude London