Whether it's touching wood, avoiding the number 13 or crossing your fingers for luck you are not alone, over 51 million (78%) Brits believe in superstitions.
New research* carried out by Ladbrokes Casino, found that 30% of us cross our fingers for luck and 32% believe finding a penny is also lucky.
More than two out of five Brits (41%) believe walking under a ladder will bring bad luck and over a third (35%) believe that touching wood will prevent something bad happening to them.
The same research also found that a quarter (25%) of Brits believe that burning ears is a sign that someone is talking about you.
Women proved to be more superstitious with 83% saying they believed in superstitions compared to 70% of men.
When it comes to weddings over a third (34%) of women believe that the groom shouldn't see the bride in her dress before the big day compared to just 17% of men. Women also still value the traditional view with 30% believing that having something old, new, borrowed and blue will bring them luck, as opposed to just 11% of men.
Across the UK, those living in Leeds (83%) were the most superstitious, followed by Birmingham (82%). People living in Southampton (65%) revealed themselves to be the least superstitious. 
The list of the top 10 superstitions that the UK takes seriously are:
1)   Walking under a ladder is unlucky (41%)
2)   Touching wood is lucky (35%)
3)   Finding a penny on the floor is lucky (32%)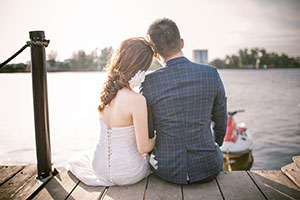 4)    Opening an umbrella inside will bring bad luck (32%)
5)   Breaking a mirror will bring seven years of bad luck (32%)
6)   Bless someone when they sneeze (30%)
7)   Cross their fingers for luck (30%)
8)   Bad things come in threes (29%)
9)   The groom shouldn't see the brides dress before the wedding (27%)
10) If your ear is burning someone is talking about you (26%)
Jessica Bridge of Ladbrokes said: "It's fascinating that in 2018 78% of the nation are still superstitious and believe that certain items or actions can make them lucky or unlucky. Punters are some of the most superstitious people in the UK, whether it's backing red on the roulette table or black 28 for their birthday."