The brand believes that the biggest day of your life, should also be one of the most stylish. With a huge offering available, there is something to suit every groom-to-be.
1. DRESS TO IMPRESS
As well as being one of the happiest days of your life, it's worth remembering that your wedding day is one of the most photographed days of your life too. There's no sense in skimping on style, and your partner won't thank you for it come the big day.
The first decision to make is whether to wear morning dress or a suit. Of course, there's no right or wrong here; really it comes down to how formal you'd like to be. Morning dress brings with it a sense of occasion, and can't help but impress. A black lightweight wool tailcoat, buff or sky blue double-breasted linen waistcoat, and striped morning suit trouser are truly timeless, and will match with a shirt and tie in all manner of different colours and patterns.
2. CHOOSING YOUR SUIT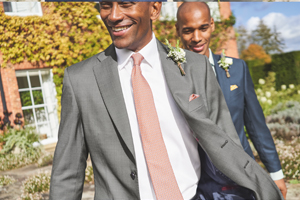 If you opt for a wedding suit, a softly textured navy wool two-piece is the perfect place to start, perhaps with a subtle pindot pattern. It's an ageless look too, which helps with the wedding snaps. While a pale silk tie is a safe bet, wedding style has become a little more relaxed in recent seasons, so if you'd like an open collar shirt, that will look equally chic. We think pastel coloured shirts work best; try a cutaway collar shirt in soft green or pale pink, and pick up on the shirt with a splash of colour in your pocket square. Above all, choose something you're comfortable with. This day is a celebration and your style shouldn't be a distraction to enjoying yourself. If in doubt, remember that a dark blue two-piece suit will never fail you – trust us, you'll look both confident and effortless.
3. EXTRA TOUCHES
All Tyrwhitt suit jackets have a certain traditional tailoring detail: a flower stalk loop on the back of the lapel. This handy little thread lets you keep a flower or two in your lapel buttonhole securely in place. And what better day to sport the botanicals than a wedding? You can draw inspiration for your flower choice from all sorts of places – the bride's bouquet, the colour of your tie, or the time of year, for instance. But if in doubt, choose a simple white bloom that befits the season.
4. DRESSING AS THE BEST MAN 
Here's a truism for you. The role of best man should extend well beyond organising a stag do and making a rip-roaring speech. The groom will doubtless expect you to take his big day very seriously – and that extends to the suit, shirt, tie, and finishing touches you wear to celebrate with him. Plus, with the curious eyes of the wedding's guests fixed on both of you all day, you've got every reason to be one of the 'best' dressed men in the room.
Event Date:
Wednesday, May 5, 2021 - 10:15