After thoroughly enjoying the wedding of Meghan and Harry in May, we can't wait to see Princess Eugenie marry her beau, Jack Brooksbank in October...and in the same chapel too, how lovely. It will be great to see all the Royals together once again, and with Princess Eugenie's parents being the best divorced couple she knows, let's hope no rifts show themselves on the big day itself as Fergie will be taking centre stage too!  That said, they'll all be on their best behaviour I'm sure!
Her 'Tiara Debut'
Both Princesses Eugenie and Beatrice are known for their extravagant and sometimes slightly bonkers accessories, and we can't wait to see the tiara that is selected for Princess Eugenie's 'tiara debut' and my guess is that she will wear her mother's tiara which was certainly a statement piece with lots of height and sparkle!  The question is, will she follow her mother's tradition and walk down the aisle in a flower crown and then swap to her tiara after the signing of the register?
Her 'Look'
I think a 60's style would suit Princess Eugenie beautifully – relatively plain fabric, high-necked with elbow-length sleeves, a nipped in waist with a belt detail and a full skirt...all finished with a cathedral length and very plain but elegant veil – and designed by a British designer, of course.
I predict her hair and makeup will be very soft and feminine with attention drawn to smoky eyes.  Hair softly curled and up with a swept fringe.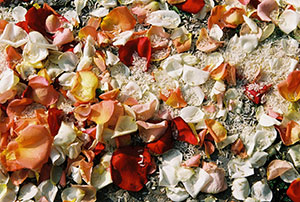 The Decorations
We know that Princess Eugenie has banned plastic from her wedding, and as a big advocate of environmental issues, I predict that her flowers will be selected based on what's in season in October, and sourced from local, British growers – I'm thinking lots of autumnal colours, berries and warmth with handmade candles.  I'm quite sure she'll donate the flowers to her favourite charity and will encourage charitable donations as part of her wedding gift list too.
The Royals
I'm thinking we'll see our Queen in a warm purple, and predict all eyes will be on Meghan as we all look for a baby bump beneath her dress!
Written by: Natalie Lovett of Love to Plan http://www.lovetoplan.co.uk/