Exchange vows, line up and meet your guests, sit down to a three-course meal, cut the cake and have the first dance. Traditional weddings tend to run like clockwork – but what if you're a modern bride who wants to break all the rules?
While our parents' generation may have spent hours pouring over stationery books and pondering cream of tomato soup over prawn cocktail, in 2018 DIY brides are making their own invitations and serving up street food.
"Wedding traditions still have their place, but many brides now feel that some of them are old hat," said Ngaire Stanaway, events manager at The Chester Hotel in Aberdeen. "In the past, weddings were pretty much identical – each one would follow the same format and most venues would offer very similar packages.
"But modern brides don't want a cookie-cutter wedding. They all want something different and, in many cases, they want something contemporary. Whether it's canapes and cocktails or ditching the bouquet toss, they just don't want to follow tradition.
"I think couples are generally being more focused on what they want rather than what tradition or society dictates that they should have. And that's quite right: after all, it's the most important day in their lives, so it should be perfect for them and them alone."
While there will be inevitable changes in line with fashions – for example the chocolate fountain craze of four years ago is out and pimp your prosecco tables are now most definitely in – Ngaire says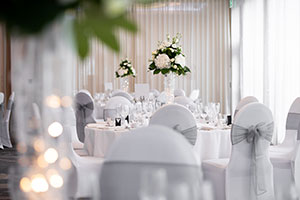 there has also been a real shift in the fundamentals. 
"When we are working with couples to create their special day, we never assume or take anything for granted because attitudes are so very different than they were 20 or even 10 years ago," she explains. 
"It's now relatively unusual for grooms to approach the bride's father to ask for his daughter's hand in marriage, and I've now seen a few ceremonies where the bride has chosen to walk down the aisle on her own rather than have her dad give her away.
"The roles of males and females are becoming less defined too. Rather than choosing a bridesmaid, best man or groomsman based on the fact that they are the same gender, couples are selecting the people to stand beside them based on their relationship to them. Best women are now a real thing!
"For some couples, traditions will always be important – especially if they relate to family – but as far as weddings are concerned, it seems the rule book is now being well and truly torn up."
The Chester Hotel is an upmarket boutique hotel in the heart of Aberdeen's fashionable west end and has become the go-to venue for couples that want to stage a chic city wedding. The majority of weddings – both the ceremony and reception – are staged in the Granite Ballroom, with smaller affairs taking place in the Granite Balcony.
Many of the brides who book The Chester Hotel have been inspired by the likes of Sex in the City and are looking for a glamorous event to rival the almost-wedding of Carrie Bradshaw and Mr Big. Others, however, enjoy the flexibility that the venue provides in terms of the space, menu options and the approach of its wedding planners.
While the hotel presents couples with core menu options, there is always scope to tweak the food choices to suit. Ngaire says that the introduction of bolt-on packages – where couples can build their own wine, champagne, canapes and evening buffet choices – has been a welcome addition.
She explains, "We didn't ever want couples to feel restricted by our packages, or to feel that they were getting the same wedding as everyone else who has celebrated their special day at The Chester Hotel.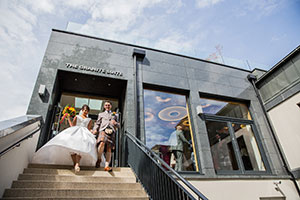 "The feedback we were getting was that they didn't want to buy a complete package where every single bit of food or sip of wine was already set in stone. They like the fact that they can allocate more of their budget against certain items, while lowering their spend on other items can free up funds to spend on little extras they may otherwise not have been able to have.
"It's my job as a wedding planner to ensure that our couples get the wedding they really want, whether it's one that's steeped in tradition, or a thoroughly modern affair with a much more contemporary outlook.
"The Chester is known for being a very modern and fashionable venue and therefore we'll always adapt and fit to whatever it is that the modern bride wants."
The Chester Hotel can accommodate weddings and family celebrations of all sizes in its flexible Granite Ballroom, which can hold up to 230 guests for a wedding breakfast and reception. An extension of the ballroom, which has its own bar and private entrance, will lead to capacity increasing to 300 from May 2019.
The space can be configured appropriately for smaller groups, while more intimate wedding celebrations can be staged in the Granite Balcony private dining area, which has stunning views out over the city. For more information, visit www.chester-hotel.com