Rather than a traditional formal wedding Nick and Hermione Greenwood wanted a festival feel to their special day.
They decided to have their celebrations in a picturesque countryside location with a marquee for the reception, bell tents for guests and an outdoor cinema for the entertainment.  
They needed a projector for the speeches in the marquee that would be bright to cope with the high ambient light and easy to set up with no long cables to trip up their speakers.  For the cinema, they wanted a high resolution projector.
Solution
The couple tied the knot on Saturday 26 May in the small village of Benendon in a timber-framed shelter which has a traditional oast house roof, synonymous with this part of Kent.
This pretty shelter was also the focal point for the evening entertainment.  
Hermione said: "We wanted a relaxed atmosphere to our celebrations and to share our love of movies with our guests – this is why we went for a film festival
feel for our evening entertainment.  We'd heard great things about Optoma projectors, so chose the bright laser 4K for our main cinema tent and the small GT1080e for the speeches in the main marquee."
An 80" screen was set up under the shelter onto which the Optoma UHZ65 laser 4K UHD projector beamed the feature film.  The wedding cinema was then furnished with hay bales topped with cushions for seating and snacks for the guests.
Equipped with high-quality laser illumination, the UHZ65 provides consistent brightness, superior colour performance, instant on/off and an extraordinary life span of up to 20,000 hours.
Capitalising on the fast switching speed of the DLP chip with XPR technology and advanced image processing, 8.3 million pixels are delivered to the screen without alignment issues, with four times as many pixels as 1080p. This brings stunningly detailed, bright and colourful imagery to the screen.
With its sleek black casing and 3000 lumens, the UHZ65 also boasts sophisticated PureMotion frame-interpolation technology. This advanced processing eliminates motion blur or image judder, even in high-speed action films or fast-paced sports.  Installation is simple with vertical lens shift, 1.6x zoom and a host of connection options such as two HDMI ports and Mobile High-Definition Link (MHL) for compatible phones and tablets. 
For the main marquee the couple chose the GT1080e short throw Full HD projector.  This small but powerful projector, with built-in speakers, can give a super-sized 100-inch picture on a screen or wall from just over a metre away. Full 3D and Full HD, it produces bright vivid colours due to its 3,000-lumen brightness.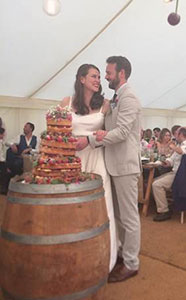 Results
The speeches went smoothly with the GT1080e and The Greatest Showman was screened as the feature film in the wedding cinema .
Nick said: "I was so surprised at how bright the little short throw projector was.  We were blessed with a bright sunny day for the wedding – so I was a bit worried the screen would look washed out.  But it was perfect.  Easy to set up and it looked great."
Hermione added: "We were so impressed with the 4K projector.  You really appreciate that extra depth and detail from the 4K resolution when you see this on a large projection screen.
"Relaxing to watch a film with our guests made our wedding such a special event."
Pictures
Image copyright ©Nick and Hermione Greenwood