Memories last a lifetime and photos are the evidence; with wedding photos some of the images that we cherish the most. After all, it's a time when those that matter most, family and friends – both old and new – are gathered to celebrate one of the happiest days of our lives. With thousands of happy moments ready to be captured, the images that we have from the day can help to bring back those memories in an instant.Yet, it's not just professional photos which couples are looking to share, as many are choosing to share photos from their love story to display on the day itself. As well as inviting guests to capture their own moments on the day to which can be shared. We've rounded up the unique ways you can display your wedding photos (because nothing cures post-wedded blues like reminiscing on the day), as well as ways you can share moments instantly.
 Find your Polaroid and grab a seat
 This one may take a little planning, but it's a great way to involve   your guests in the day. Invite each guest to share a photo of themselves – sensible, silly   and serious all welcome- and turn it into a Polaroid and use it to create your table plan display. It will    provide a great talking point, and allow guests who don't know each other to put a face to a name instantly as they can be used as place names too.
Our love story
The big day is about you as a couple and your love for one another, so why not share some of the photos you have which tell the tale of your story so far. Include the good, but maybe leave out the bad and the ugly – it is a wedding, and you only want to show your best side! You could grab a ladder frame and display photos on each shelf if you've gone for a rustic theme, or why not grab some wire fairy lights or string and clip photos along and hang above your wedding cake display.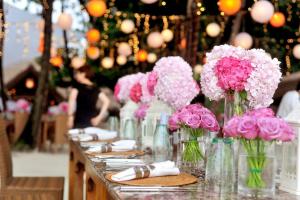 Take a snap and share a message
Photobooths may be a 'done' thing at weddings these days – and it's easy to see why they are so popular, as we're a nation of selfie lovers. Why not invite your guests to take a snap of themselves at your wedding (you'll need to enforce a limit on how many each guest can take), and get them to pop it in a guest book alongside a message. You'll then ensure that you have a photo of each guest to look back at and a message from them to you.
Photobox – wedding keepsakes and photos
Sometimes, it's not just photos that you want to keep from your big day, as there are other keepsakes that you want to hold on to. Whether it's a name card, order of service or wedding menu, keeping this in a box with your photos will give you a wedding memory box to reflect on. With designs ranging from bespoke engraved wooden boxes to something more modern – you could even get crafty and make your own if you wish.
 Mix and match photo shelf
 Putting a nail in the wall and hanging a picture frame can often   feel like a final solution to displaying a photo with many of use leaving the same images displayed for  years to come. When it comes to displaying wedding photos, there are often so many favourites that you want to put up. Instead of hanging them on the wall or agonising over curating a gallery wall, create a gallery shelf instead. Simply swap photos in and out of frames, without worrying if you messed up the theme of
your gallery wall up.
So, there you have it, some ways to share memories whether they are old or new, both at your wedding and afterward too.
Event Date:
Thursday, June 22, 2017 - 16:15