A wedding - one of life's happiest occasions - for both the happy couple and the guests attending. Or is it? A new survey by leading high street jewellers, Goldsmiths, has revealed some of the most awkward etiquette issues when it comes to planning, and attending, the big day.
With more than a third (39%) of those questioned being outraged at the thought of being invited to a hen/stag do abroad when the wedding is also overseas, 75% wanting to pick out their own engagement ring, and almost a fifth of singletons being disappointed if they don't get a 'plus one' to the wedding -
Goldsmiths get to the bottom of the perfect engagement and wedding etiquette to create a conflict-free day!  
BRIDES & GROOMS
The Goldsmiths report, which questioned almost 2,000 brides and wedding guests, revealed the average UK bride-to-be expects their partners to pay no more than £1,500 on their engagement ring, yet Manchester is home to the most demanding brides-to-be, with the majority hoping their grooms will pay 50% above the national average on their ring (£2,309).
It seems many people across the UK appear to underestimate the cost of planning the big day, with the average predication of a wedding hitting £11,700, when in fact, the research shows couples are spending a whopping £17,000 on average on their big day!
However, it seems the UK is home to some generous husbands-to-be, with Glasgow topping the table when it comes to wedding ring spend, as 12% of men questioned in the Scottish city admit they plan to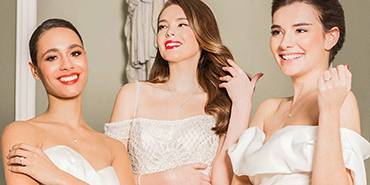 spend over £5,000 on their partner's ring.
GUESTS
Despite over half (58%) of brides questioned admitting they would be disappointed if they had politely requested money and received a gift from a guest instead, the research revealed that almost a fifth of guests are annoyed if the invite specifies they give a monetary gift. 
Other major bug bears for wedding guests include:
Being invited to a hen/stag do and wedding abroad (39%)
Screaming children (36%)
Drunken relatives (34%)
Inconvenient location (29%)
Long and cringeworthy speeches (29%)
Long ceremony (26%)
Long waits for food (25%)
Not receiving a plus one when invited (22%)
Being asked for money for the wedding gift (17%)
When a wedding falls on a weekday (13%)
Spending money on attending a wedding is also on the rise, with the average wedding guest spending £217 on the big day when they tot up the outfit, gift and accommodation, while 12% of those questioned even confirmed they spend a staggering £500 on their role as a wedding guest.
In fact, it seems we are a fairly generous nation, with the average wedding guest spending a lavish £74.12 on a gift for the lucky couple. 
BRIDAL STYLE 
When it comes to bridal style, more than three quarters (77%) of women questioned would prefer to choose their own engagement ring, which is probably a good idea, bearing in mind that 75% of men admit they would be hurt if they proposed and their partner wanted to exchange the ring. Though size certainly isn't everything nowadays, with 69% revealing quality is more important than the size of a stone in the ring. 
Craig Bolton, Executive Director at Goldsmiths, comments: 'It's fascinating to get an insight into the UK's thoughts around what is right and wrong when it comes to wedding celebrations – especially when it's so important for things to run smoothly on the big day. Brides-to-be being more impressed with quality than quantity when it comes to the stone in their engagement ring was a particular shock for us – but it's brilliant that people are openly discussing what they are looking for in their ideal ring. 
'We have certainly seen an increase in people coming into our stores with a 'holding ring' and making the final ring choices together as a couple. It seems discounted rings are also a no-no with brides-to-be.'  
A timeless, classic look is still top of the list when it comes to bridal styling, with more than a quarter of those questioned (26%) preferring a traditional elegance, while somewhat surprisingly, vintage chic is more popular among the 16-34 year olds questioned. 
Finally, it seems the classic English rhyme 'something borrowed, something blue' still rings true, with 52% of people agreeing they like the idea of wearing a family heirloom on their special day.
For more information on Goldsmiths click here.