Ever heard of a wedding tasker?  No?  Didn't think so.  I'm a new breed.  Wedding planners can be expensive and intimidating – I'm a wedding tasker.  I've reinvented wedding planning, no strings attached.  Hire me for certain tasks, odd jobs, or full blown planning; it's up to you.  With completely flexible pick and mix services, there's absolutely no commitment (time or money wise).  
I'll work with you on anything wedding related, from hen parties to honeymoons, from stationery to styling, and from wedding planning to wedding websites.  You pick and choose the elements you need help with.  I won't take over your wedding (unless you want me to).  I want the experience to feel like your bridesmaid is helping you plan your wedding.  The experience has to be easy, yet unique, innovative, and personal for my client.  Above all, it should be stress free and fun.  (No strings attached!)  
I've been there, I wanted to do the fun bits myself, I was all over Pinterest!  But it would have been nice to have an extra pair of hands at certain points.  I was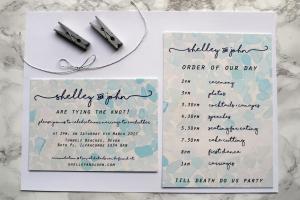 completely bamboozled that wedding planners didn't have prices on their websites, so I didn't get one.  However, I would have loved someone to come in and do the dirty work as and when I needed it; to organise the food the night before, to book my mani' the day before, and to perhaps pick up my flowers.  It would have also been handy to have someone help me to thread 100 mini cakes and donuts to the arch of my pudding garden, so I could enjoy myself in the lead up.  
There are so many celebrations that come with getting married, and you only get one shot, so make sure you've got time to enjoy every single bit.  From hen night pom poms to wedding day pedicures.  If only you could pay someone to save you time, money and stress – now you can.  
My vision of wedding planning is accessible to every couple, whatever your budget.   I offer creative solutions to planning and budgeting in the form of wedding tasking, styling and coordination.  And I'm obsessively organised so you don't have to be.
Weddings are important because they celebrate life and possibility, and ultimately, it's all about making people happy – and I love that.
Congrats on your engagement, if you need any help don't hesitate to drop me a line, you can find me over at www.devinebride.co.uk.   
By Laura Devine of Devine Bride
About the author, Laura Devine of Devine Bride:  
"I am a bespoke wedding tasker and run the award winning wedding blog Devine Bride.  I offer pick and mix wedding planning, from stationery to hire a bridesmaid to planning and coordination.  
Previously, I worked at a family run perfume house, and before that I earned my organisational stripes in merchandising and operations roles for a TV shopping channel, a high end Japanese fashion chain and a luxury global skincare brand.  When you put my experience together with my degrees (Product Design from the Glasgow School of Art and Fashion Marketing from the London College of Fashion) it's a wonder I didn't start planning weddings sooner.  
It's fair to say that there's not much I can't coordinate.  But although I have vast experience in operational business strategy, project management and budgeting, I have no formal training in wedding planning.  That's why I approach my business from a client's point of view – as a partner rather than a supplier.  I've been through it (myself, and as a bridesmaid three times), so I know the ups and downs and the stresses – as well as a lot of tricks."