You've looked gorgeous all day. Now it's time to kick off those heels and light up that dance floor.
Rollasole are here to help your perfect day go without a hitch. At the end of the night, your heels can just become too much to bear after hitting the dancefloor and doing the table rounds visiting and thanking all your loved ones and guests. Rollasole is a revolutionary roll-up design meaning you can sneak an emergency pair under your table on your wedding day and slip them on during the night!
Fold-up shoes, roll-up shoes, flirtatious flats or pretty ballet pumps - whatever you want to call your Rollasoles; there's a pair for every occasion, night or day and style to suit your personality and compliment the all-important dress!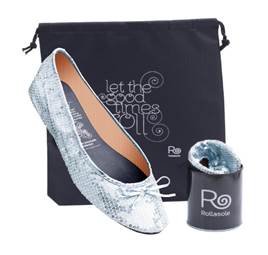 Also as perfect wedding favours, an extra thank you to your bridesmaids or just for an extra special surprise to pop on a side table by the dancefloor for your guests to kick off their heels too, Rollasole are guaranteed to make that special day even more memorable.
The special wedding gift box contains 24 pairs of Rollasole – 6 small, 12 medium and 6 large – ensured to cater for everyone and all in a classic pewter shade to match any colour scheme.
Keep your loved ones dancing all night long with the most unique of wedding favours. For a gift that will be used again and again reminding your guests of your special day. Each presentation gift box comes with 12 pairs of our bespoke Wedding Rollasoles, each individually rolled up with their own high-heel carry bag and tied with a white ribbon.
Follow Rollasole online:
Facebook: https://www.facebook.com/Rollasole 
Twitter: https://twitter.com/rollasole 
Instagram: https://instagram.com/rollasoleofficial/