The colour purple can be hard to incorporate into any colour scheme without seeming too gothic or dark, so I wanted to bring you a few easy ways to include this gorgeous colour in your day, with a few inspirational images too.  
The colour purple symbolises nobility and luxury due to the fact that it's rarely found in nature. The perfect colour then, for an opulent and romantic wedding.  The key is fresh lavender in softer hues of purple, which you can use as a base colour, in your décor, or even as food or drink colouring.  Lavender season runs from around May until about late August, so ideal if you are planning purple for next summer!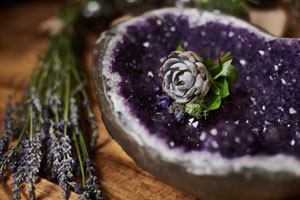 Cocktails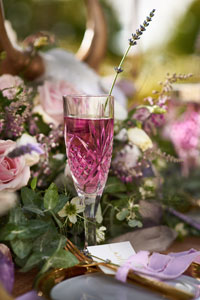 Lavender flavouring goes well with most things, but you don't need a lot of it to achieve this lovely colouring.  
This is the perfect starting point if you're planning a romantic and feminine reception, so classy and so pretty!  
Sweet Treats 
Macarons come in the most delicate of colours, and these ones look gorgeous laid out as they are.  Add some fresh lavender for decoration in between the tiers and some edible gold leaf make them that little bit more decadent.
Flowers and Succulents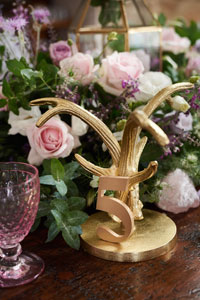 Strategically incorporate fresh lavender with your flowers or mix in some darker purple tints with softer pink tones to lift the darkness of the colour purple.  The main thing is to create a mix of softer colours, rather than blocks of purple.  Better still, some succulents come in the most gorgeous shades of purple, so take advantage and incorporate some into your centrepieces.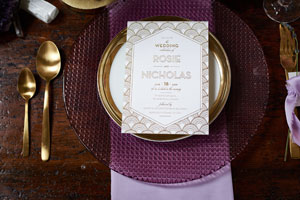 Tablescape 
A super easy (and cheap) way to lift your colour theme is to create place settings or table runners with a complimentary shade of purple.  A very easy DIY, and an ideal helper job for a mum or aunty with a sewing machine to finish off the edges.  
I
I hope these ideas gave you some inspiration for next year's lavender season…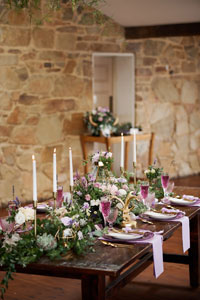 Good luck with the rest of your planning, and if you need any help or any more ideas please don't hesitate to drop me a line.  You can find me over at www.devinebride.co.uk and on Instagram as @devinebride.  You can also say help via laura@devinebride.co.uk. 
By Laura Devine of Devine Bride
Photo Credits:  
Photos: Sephory Photography | http://sephoryphotography.com.au/ 
Styling: Adorn Invitations | https://www.adorninvitations.co.uk/ 
Invitation Design: http://www.bweddinginvitations.com/ 
Flowers: Babylon Flowers | @babylonflowers
Food: Mary Eats Cake | https://www.maryeatscake.com.au/ 
About the author, Laura Devine of Devine Bride:  
Laura is a wedding tasker and runs the multi award-winning wedding blog Devine Bride.  Laura offers pick and mix wedding planning, from stationery to styling, hire a bridesmaid to help on the day, and from wedding planning to wedding websites.  Her honest and practical blog covers hen parties to honeymoons and everything in between.  
Laura won Best Rising Star at the Wedding Blog Awards 2016, Wedding of the Year 2016 with Your London Wedding Magazine, and was highly commended in the Wedding and Events category at the UK Blog Awards 2017.  
Laura is Glasgow born and bred but now splits her time between Scotland and London, where she lives, works and plays.  She is a graduate of the Glasgow School of Art and the London College of Fashion.
In her words, "Weddings are important because they celebrate life and possibility, and ultimately, it's all about making people happy – and I love that."