You are determined to look your best on your wedding day this year. From eating healthier, drinking plenty and working out harder, to moisturising deeper and experimenting with makeup trials for the perfect look; when it comes to bridal wellness and beauty, nothing short of perfect will do. September, which is only a few weeks away, offers the perfect opportunity to readjust to post-holiday daily life and reset our lifestyle habits which we might have relaxed, deservingly so, during the holidays. 
If you are planning your impending wedding in the coming year, you will want to make sure it will be the day you dreamed of in all respects and that you are feeling and looking fabulous.
Here are our some top tips on getting wedding ready without stress:
Sign up and commit to a wellness class. Yoga or mindfulness can help clear your mind, direct your focus, relax and unwind.
Eat yourself beautiful. Include green tea, fruits, lots of water and Omega 3 into your daily diet, to boost your metabolism, get glowing skin and shiny hair and up your energy levels.
Strike a balance. Try to leave work worries behind on evenings and weekends to allow you to get on with your wedding plans.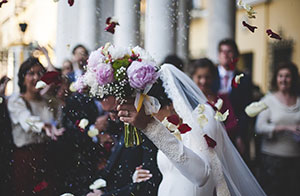 Socialise and get your friends involved. Friends can offer ideas which may inspire your wedding mood board and help in the lead-up to as well as on your actual wedding day.
Consider hiring a wedding planner. You might think it's a luxury or find it difficult to delegate, but you will be thankful you did when the big day comes. A professional can take away the stress of planning and use their experience and expertise to create your dream wedding.
To support you in this effort Bare Biology will be hosting September Startover, a series of helpful tips & advice on our website including 
• How to go back to work calmly by Coaching Emily
• Slowing down your eating habits by Nicky Duffel
• Top tips on how to apply for a new job by Caroline Binns
• 5 tips on setting up your own business by Melanie Lawson
• Trying out a new sport by Christina Howell
• Not losing you by stylist Milda Chellingsworth
• Daily habits and why fasting is so good for you by Max Lowery
We have also teamed up with the rather swanky Devonshire Club & are hosting a range of events to help get your September started on a great note. These are free to attend but you must be either a member of the Devonshire Club or a signed up to the Bare Biology newsletter in order to secure an invitation. www.barebiology.com