As we enthusiastically wave goodbye to winter and the first flowers begin to bloom, say it quietly, springtime is on its way!
Spring is a time for new beginnings and clean slates, bringing with it a sense of renewal and creativity. With the glut of new brides getting engaged over the Christmas and Valentine's Day period, spring is the perfect time to wed and embark on your new life together as a couple. 
When designing your perfect spring wedding, take advantage of the plethora of newly sprung flowers and wildlife available and use it to accentuate the more intricate details of your theme. Seasonal floral arrangements are a great way to make a big impact during your reception or ceremony. Garlands of ivy, cherry blossoms, hyacinths, tulips and peonies are all fantastic choices and will add an enchanting feel to long tables or aisles while flooding the room with the sweet aromas. Giving guests something to take home is another nice touch; give guests wild flower seed bombonieres they can sow in their own gardens as a reminder of your day.
There's something wildly romantic about the untouched and untamed elegance of natural flowers and this is never more prominent than when unified with a beautifully contrasting background.
Spring is known for its spring showers, so, weather permitting, it's a nice touch to get guests outside, even if only for a drinks reception or to toast the newlyweds. Combine the crisp, fresh spring air and a blue sunny sky, and you're on to a real winner. To avoid the unpredictability of the spring weather a simply themed marquee is not only practical, it'll evoke a garden party-esque feeling that offers guests a change of scenery as well as the chance to enjoy the season in all its glory!
If the outdoor space is something you know you want to incorporate into your day, add some quirky fun with a Mad Hatters tea party to replace the traditional champagne reception. Serve floral cocktails in jam jars or china tea cups and use playing cards as table settings. A trend I'm loving at the moment and which fits well with the tea party theme is swapping individual tables for one long centre bench. This creates a more communal feel while adding some fun to the occasion and giving a slightly rustic feel. The table can then be decorated to match your theme, while lanterns can be used to offer a more ambient setting if the meal will last into the evening.
Spring is a great time to keep things simple and let the natural beauty of the season take centre stage. It's all about making the little things shine and incorporating little touches that will leave a big impression.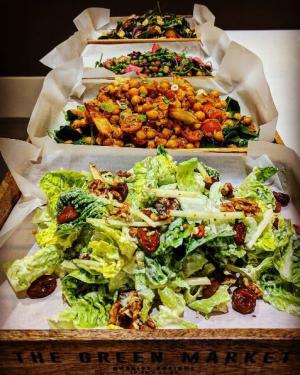 The first thing to remember is cook for the season. Spring is the perfect time for cool, crisp and refreshing treats and fresh fruit and veg. I'd always encourage people to make the most of your local larder, which can be hard in London, with its array of variety, flavours and nationalities (let alone limited greenery and pasture to harvest food). Getting married in spring allows you to enjoy and theme your dinner with the season – this means you can go one of two ways with the texture and flavour of your menu, cool and light or rich and warm.
Developing the menu for your wedding party is the fun part – it's the time to get creative, and, best of all, test lots of amazing food and wine.
Couples have different tastes, and so do guests, which is why it's important to consider vegetarian and dietary options. Salads offer a nice light start with Waldorf salad, roquefort and pickled grapes being a particularly popular choice, but a great spring alternative is cold seasonal soup like Gazpacho. This acts as a great palate cleanser and appetite stimulant, while still ensuring your guests have room for the main course.
Make your main the stand out course with a whole Crispy duck – keep it seasonal and serve alongside champ, cavolo nero, braised pine nuts, toasted citrus crumb and a brioche sauce. If you aren't wanting a meat course then a fresh fish dish is the perfect substitute; such as Pumpkin seed crusted sea trout, with brown shrimp, crushed new potatoes, tender stem broccoli and a savoy cabbage puree with sweetened lemon and seaweed dressing.
Any vegetarian options shouldn't fail in comparison either, where possible I encourage couples to experiment with ingredients; the flavour is in the quality of produce so however simple a dish it's important to choose quality over quantity – one of my favourite dishes that stands out during the spring is beetroot gnocchi with roasted cauliflower, spinach, vegetarian parmesan crumble, fried avocado chips and a ricotta sauce.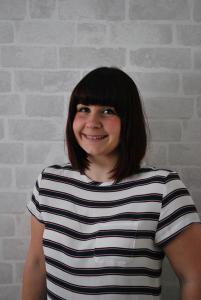 Spring is the beginning of a new food cycle and as such it's a good idea to switch out the preserved and pickled foods of winter for fresh produce. We are still spoilt for choice when it comes to fresh fruits, particularly apricot, blueberry, currents and cherries, so dessert should be light and enticing, especially when it'll be followed by cake and dancing! One of my favourite spring desserts is black pepper crème caramel with apricots, spiced brioche croutons, toasted and burnt meringues, finished with a dollop of fresh apricot ice cream.
By getting the best out of the season you'll take your wedding dinner to the next level, in sight, smell and taste – the triple whammy.
Written by Jayne Mountford wedding and events planner & Steve Connell, executive chef, The Brewery