With 2018 wedding season in full swing, online platform for independent boutiques Trouva.com has teamed up with wedding stationary specialist boutique Quill London to reveal 2018's top wedding trends as brides-to-be seek distinctive, anti-chain weddings.
Gone are the days of the generic high-street department store wedding lists and registry office marriages; modern couples are now seeking beautiful and bespoke experiences, unique to them and their story.
Luxe London boutique and wedding stationary specialists Quill London creates bespoke stationery for their customers, offering everything from beautifully curated invitations to calligraphy workshops for that extra personal touch. Boutique founder Lucy Edmonds has teamed up with Trouva to reveal the top tips for independent-minded couples to live by when planning their big day.
1    Go to the experts
"The sheer amount of information available is overwhelming when you're planning a wedding (thanks, Pinterest). No two weddings are alike these days, everything is so personal - from table styling to bridesmaid dresses. Years ago a simple wedding magazine would have been sufficient, but now we have inspiration from all over the globe that can help shape your big day. While this variety is inspiring, it can be overwhelming
Here at Quill London, we aim to remove the stress of having to choose from a million stationery options by curating a limited range of beautiful items from across the globe. Getting off the web and into specialist boutiques is a great way for customers to refine and streamline theirsearch and get a really personal shopping experience with expert guidance."
2.                  Gift your guests
"Wedding gifts don't have to just be for the bride and groom; couples can now take their wedding up a notch by creating special mementos for their nearest and dearest to treasure after the big day is over. Why not give your guests a personalised experience from start to finish, from hand-written invites and place cards to locally produced wedding favours, such as hand-crafted chocolate bars from Creighton's Chocolaterie or a jar of honey from The London Honey Co. in Bermondsey?"
3.                  Independent gifts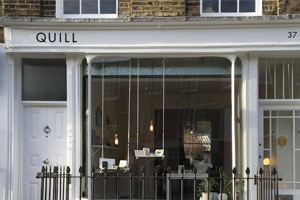 "Even attending a wedding requires a lot of planning, particularly when it comes to choosing that perfect gift. With many couples living together pre-marriage and already owning household essentials, it will come as no surprise that guests are moving away from practical and impersonal gifts such as toasters and kettles and towards more unique items that have an interesting story behind them."
Lucy Ward, Creative Brand Director at Trouva, said: "It's been so insightful to explore changing trends in wedding gifts as modern couples value originality over orthodoxy. Customers are increasingly seeking more unique and meaningful gifts, opting for beautiful prints and decorative ceramics. Our community of independent boutique owners are experts are helping customers unearth this type of gift, using their curatorial skills to help guests buy presents that couples will truly love. Say goodbye to the generic department store gifts and gather inspiration from Trouva's curated range of products." 
Looking for inspiration? Take a look at Trouva's curated wedding edit and these top five unique wedding gifts, sourced by Trouva's community of independent boutiques:
1. Stelton Collar Cocktail Shaker and Measuring Cup (£69.95)
2. La Cueva Handmade Vase (£98.09)
4. Slowdown Studio Perry Throw (£245.00)
5. Tom Dixon Brass Bell Lamp (£450.00)